---
Top 10 Pilgrimage Sites of India You Must Visit
In India, religion works and forgiveness are very important. India is a country where people from many castes and religions live with great love and show brotherhood. Today we talk about the top 10 Pilgrimage Sites of India. Many people called India the "Land of Religions". Religious places in India include many temples, mosques, churches, and gurudwaras in addition to places of pilgrimage sites.
People of India visit these holy places according to their religion and get blessings from their God, Allah and other divine persons. Learn about some of the best pilgrimage sites and temples in India.
Top 10 Pilgrimage Sites in India
Vaishno Devi Temple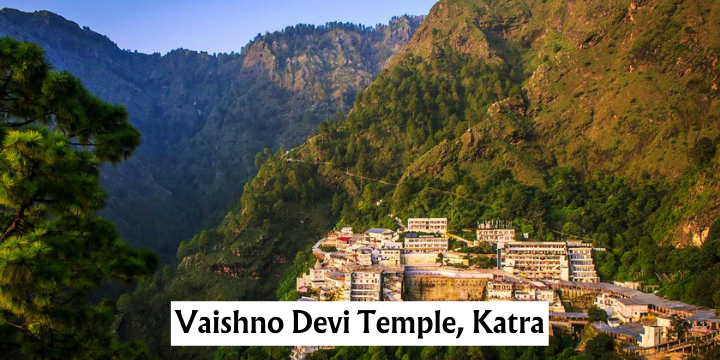 Mata Vaishno Devi Temple, one of the religious places in India, is an important pilgrimage sites for Hinduism. Located in the picturesque Trikut Hills of Jammu and Kashmir, this holy place is the ultimate abode of Mata Vaishno Rani, one of the nine goddesses of Hinduism. On the occasion of Navratri, the number of devotees who come to see the goddess is huge. The owners wander a long way up the stairs and call "Mata Rani". Vaishno Devi temple has many holy places.
How to reach Vaishno Devi Temple?
Maa Vaishno Devi temple can be visited once or twice a year. It is a wonderful place and if you have full faith in your energy, you are in for a good temple visit. To reach Jammu and Kashmir, you have to travel by train or fly. The Board of Mata Vaishno Devi Shrine has provided many facilities to the devotees. After reaching Jammu, you can book a room in a dormitory located 500 meters from the railway station.
To reach Maa Vaishno Devi Temple, you can reach Katra by hiring a cab, taxi or bus from the station. The shrine authority has not yet provided a transport facility from Jammu to Katra. If you want to avoid last-minute hassles to avoid expensive hotel rentals, book your hotel in advance online.
Golden Temple/Swarn Mandir/Harmandir Sahib in Amritsar
Among the religious pilgrimage sites of India, the Golden Temple/Harmandir Sahib in Amritsar was built by Sri Ramdas Sahib, the fourth Guru of the Sikhs. Gurdwara Harmandir Sahib is considered one of the most special Sikh pilgrimage sites in India for those visiting religious places in India. There are many historical events associated with this sacred golden tourist spot. The Golden Temple of Amritsar attracts tourists from all over the world. Excursions to the Amrit Kalash (lake) and pilgrimage sites complex are major attractions.
How to reach Golden Temple in Amritsar? 
If you go from Delhi to Amritsar by train or road, the journey takes about 9 hours, while the flight takes only 1 hour. If you are going to Golden Temple by plane, the nearest airport is Raja Sansi Airport. You can reach here from Amritsar in 15 minutes.
If you are going by road from Delhi, you can reach Amritsar by the Grand Highway. If you go by road, you will reach Amritsar even after passing Karnal, Ambala, Khanna, Jalandhar and Ludhiana.
The nearest railway station to Golden Temple is Amritsar Junction which is approximately 2.4 km away.
Sun Temple (Surya Mandir) in Konark
The Konark Sun Temple is located in the northeastern part of Konark, about 35 km from Puri on the Odisha coast of India. This huge temple is dedicated to the Hindu god Surya and has become one of the most important tourist attractions in India. The word Konark consists of two words kon (Kona) and aark (arka), where kon means angle (corner) and aark means the sun. After combining these two words you get the term Sun Angle ie. Konark The world-famous Konark Sun Temple is also known as Kalaa Pagoda.
How to reach Konark temple?
February to October is considered the best time to visit Konark Sun Temple. The most famous tourist destination is located on the banks of the Chandrabhaga River in the state of Odisha. As Konark is a small place where this temple is located, one has to first reach the surrounding towns and then go to Konark temple.
By Air: Konark temple is located 65 km from Bhubaneswar airport and is easily accessible for pilgrims. Bhubaneswar city is well-connected to major Indian cities like New Delhi, Kolkata, Visakhapatnam, Chennai, Bangalore and Mumbai.  Bhubaneswar is regularly served by all major domestic airlines such as IndiGo, Go Air and Air India. You can reach Bhubaneswar by air and then take a bus or taxi to Konark Temple.
By Road: Konark is approximately 65 km from Bhubaneswar via Pipli and it takes a total of two hours to reach Konark from here. If you plan to visit Konark by road, the nearest city is Puri. Konark temple is 35 km from Puri and takes an hour to reach there. There are buses to Konark from Puri and Bhubaneswar. Apart from public transport, private tourist buses and taxis are also available from Puri and Bhubaneswar.
Jagannath Temple in Puri
Among the most important pilgrimage sites in India, the Jagannath Temple is considered one of the best religious places in Odisha. The main deities of the Jagannath temple in Puri are Lord Jagannath, Balabhadra and Goddess Subhadra. The Jagannath Rath Yatra is very famous where the three main deities of the temple are placed in a chariot. This holy temple is considered an authentic reflection of Indian culture.
How to reach the Puri Jagannath Temple?
By Air: The nearest airport to Puri is Bhubaneswar which is 60 km from Puri. You can reach Puri by booking a bus, taxi or car from Bhubaneswar airport.
By Road: There are bus stands near Gundicha Temple from where buses to Puri are available. Apart from this, you can also reach there by bus from Bhubaneswar, Cuttack. Several buses ply from Kolkata and Visakhapatnam to Puri.
By Train: The nearest railway station is Puri, which is directly connected to New Delhi, Mumbai, Kolkata, Okha, Ahmedabad, Tirupati etc. by high-speed trains and high-speed trains. Major trains to Puri are Kolkata Puri Express, Jagannath Express, New Delhi Purushottam Express etc.  Khurda Road Station is 44 km from Puri, and this is a simple train route to Chennai and Western India. Khurda Road station is about a kilometer north of the city. After that you can reach the temple by rickshaw or auto rickshaw.
Somnath Jyotirlinga in Gujarat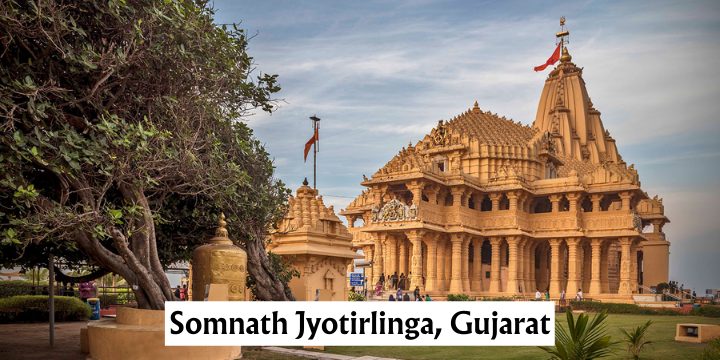 The Somnath Jyotirlinga is the first of the 12 Jyotirlingas (pillars of light) of Lord Shiva included in religious places in India. Somnath Jyotirlinga is one of the oldest and most important Hindu religious sites in the state of Gujarat. This holy place associated with the Hindu religion invites tourists to its court.
How to reach Somnath Temple?
Air: Air travel to Somnath can be considered as a last resort as there are no scheduled flights to Somnath.
The nearest airports to Somnath are:
Diu Airport: 85 km
Porbandar Airport: 150 km
Rajkot Airport: 200 km
Ahmedabad Airport: 420 km
To Somnath, Bus is a very simple and good option for travelling.
By Road: To Somnath, Bus is a very simple and good option for travelling. Due to its mythological importance, many public transport buses and private buses ply at regular intervals. It has regular buses to all major cities in India. There are luxury buses, non-AC and AC buses that you can choose according to your budget.
By Train: Somnath railway station comes under Western Railway of Bhavnagar division. A daily train runs from Jabalpur to Ahmadabad Junction, Rajkot Junction, Okha and Porbandar.
These trains run to Somnath: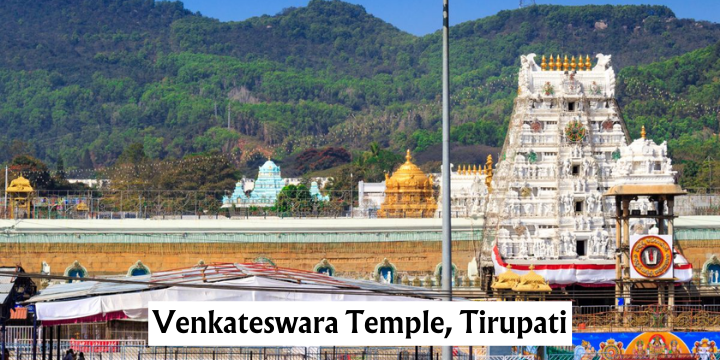 Venkateswara Tirupati Temple is one of the famous places in India dedicated to Lord Vishnu. Lord Vishnu Tirumala Venkateswara Temple is located on the last hill of Seshachalam district of Tirupati, Andhra Pradesh. This temple is one of the most popular Hindu temples in India.
How to reach Venkateswara Temple? 
Tirupati Balaji Temple can be accessed by all three routes. The nearest airport is Tirupati Airport.  For rail services, you can approach Tirupati railway station to reach here.
You can also get there by road. Tirupati is well connected to many major cities of South India through better roads.
Kashi Vishwanath Temple, Varanasi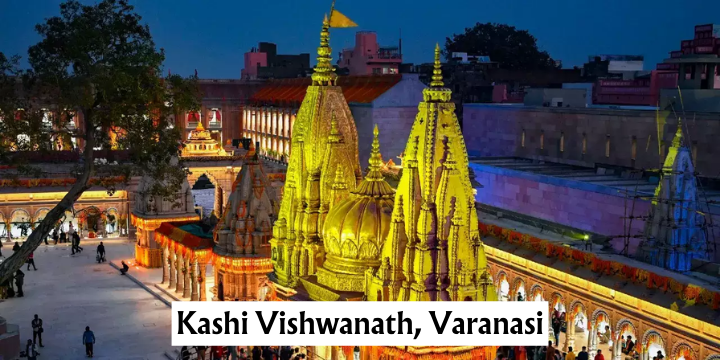 Located in the Indian state of Uttar Pradesh, Varanasi is a famous pilgrimage sites in India associated with the Hindu faith. There are long queues of tourists from various parts of the country and abroad to see the beauty and integrity of Varanasi. The holy river Ganges flowing through the city undoubtedly adds beauty and sanctity to the city of Varanasi. Because of the richness of the river Ganges, a wave of bhakti runs through the city of Varanasi in the morning.
How to reach Varanasi? 
By Air: If you are planning to travel to Varanasi by air, you can fly to Varanasi from any major city in the country. The nearest airport in Varanasi is Lal Bahadur Shastri International Airport, which is well connected to other cities in India.
By Road: If you want to go to Varanasi, you can easily take a bus to this city from Delhi and nearby cities.
By Train: Varanasi Junction railway station is well connected by rail to many major cities in India. Varanasi can be reached by train from Delhi, Mumbai, Bhopal and many major cities in India. After reaching the Varanasi railway station, you can hire a cab or taxi to visit this tourist city.
Sabarimala Mandir in Kerala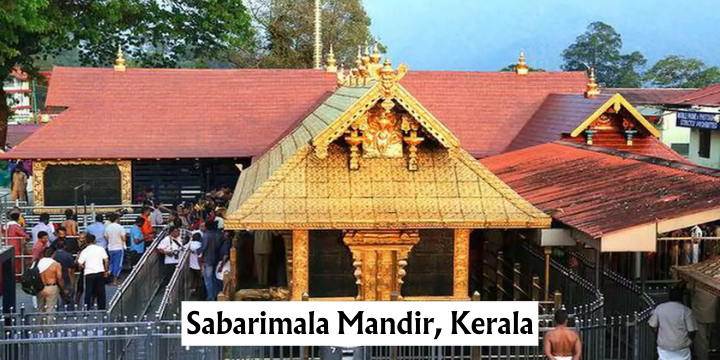 Sabarimala is a very famous temple of India. After the Hajj pilgrimage to Mecca in Saudi Arabia, the Sabarimala temple visit over 3 million pilgrims. A big number of pilgrims makes this temple the second largest in the world and India's first in terms of visitor pilgrims. The temples are located in Kerala and are open for only two months.
How to reach Sabarimala Temple?
By Airport: Sabarimala, The nearest airports are Kochi and Thiruvananthapuram. These airports are connected to New Delhi, Hyderabad, Mumbai, Bangalore and Kolkata. After there, you can reach Pampa by bus or train, which is 104 km from Kochi airport.
By Road: KSRTC has started bus service from Pampa to Coimbatore, Palani and Thenkasi to help Sabarimala pilgrims. Additionally, Tamil Nadu and Karnataka governments operate buses to Pampa. These buses will take you to Sabarimala.
By Train: Sabarimala, The nearest stations are Chengannur and Kottayam which are connected to Pampa by road. Tourists reach Kottayam, Ernakulam or Chengannur by train, followed by bus to Pampa and Sabarimala on foot.
Shirdi Sai Baba Temple in Shirdi
The well-known Shirdi Sai Baba Temple in India is the best base of the great saint Sai Baba. This Shirdi shrine is located near Nashik in the Ahmednagar district of Maharashtra. The city of Shirdi is small but full of religious places and activities. Apart from Shirdi Sai Baba Temple, there are many religious places here.
How to reach Shirdi Sai temple?
By Airport: If you are planning to fly to Shirdi by air, the nearest airport to Shirdi is Aurangabad Airport which is 130 km from Shirdi. Aurangabad Airport is well-connected to prime cities like Delhi, Mumbai and Hyderabad. You can take taxi or bus or taxi to reach Shirdi from Aurangabad.
By Road: Who travellers prefer to travel by bus, Maharashtra state transport buses are available from prime cities like Nashik, Mumbai, Aurangabad, Ahmednagar, Pune and Kopargaon to Shirdi. Apart from this, there are many private AC buses flying to Shirdi from various cities in Bhima Maharashtra.
By Train: If you want to go to Shirdi by train, the nearest station to Shirdi is Kopargaon, which is just 16 km from Shirdi. Kopargaon is well connected to many major cities in India by rail. Once you reach this station, you can get buses, taxis and private buses to Shirdi.
Virupaksha Temple in Hampi
Virupaksha Temple in Hampi is one of the religious places in India dedicated to Lord Virupaksha, another form of Lord Shiva. The Virupaksha Temple is a holy place located on the banks of the Tungabhadra River in Hampi, Karnataka. Built-in the seventh century, the temple was listed as a UNESCO World Heritage Site for its history and beautiful architecture. The temple is located in Hampi and was a small temple in the center of the olden and great Vijayanagara kingdom.
How to reach Virupaksha Temple? 
By Air: The nearest airport to Virupaksha Temple is Bellary, and the nearest international airport is in Bangalore.
By Road: Virupaksha Temple, Hampi is located 350 km from Bangalore and is easily accessible by road. You can book a cab or cab and reach Virupaksha Temple in 2 hours (approx). Regular bus service is also available from Bangalore to Virupaksha Temple.
By Train: The nearest station to Virupaksha Temple is Hospet. You can hire a cab or taxi from the station to get there.
Top 10 Pilgrimage Sites of India You Must Visit Once