---
Online Train Food Order in Railway Stations
Food in Train – Travelkhana
Meals on the train make your journeys comfortable and exciting. Passengers do not only have to rely on the possibilities of the platforms. Major supermarket chains and popular brands deliver groceries to trains at affordable prices. With just a few clicks, you can order Jain food, pure vegetarian food, non-vegetarian food or other types of your choice online. All restaurants listed in the order are FSSAI certified and IRCTC approved.
Good food will make your train journey even more enjoyable and memorable. So on your next train journey, sit back, relax and enjoy your journey and let Travelkhana take care of your onboard catering needs. We're here to make sure you get a premium experience with your friends and family at your seat during travel time.
Online Train Food Order Delivery at all Railway Stations
Online food orders are delivered to all major stations. You don't have to limit yourself to the dining options available in and around the stations. Online ordering means open up many irresistible world-class restaurant options in every city. So choose and let yourself be tempted by the flavors and specialties of each city in India.
Order Food Delivery in Running Train Online
India is a culturally rich nation with incredible regional diversity that adds to the flavor and aroma of the food. This makes traveling and dining on the trains even more exciting. You can choose from a variety of special dishes when you order food delivery online on the train for your trip. Order special dishes from the kitchens of the best chefs in each city. Receive quality services directly to your seat when you arrive at the station of your choice. Order online via website, mobile app, WhatsApp or a call. This option is available at all known stations for all booked trains with no hidden charges.
Enjoy irresistible offers and discounts in all the cities that we show you in Travelkhana. We also have special offers for group bookings for passengers traveling in large groups. So let us deliver your precious hot and fresh meals on your next trip every time you order from Travelkhana. We recommend that passengers order special meals at each station. This is your chance to taste the wonderful flavors from different parts of India. Experience the various flavors of the diversity of Indian cuisine in every bite. A healthy breakfast, a luxurious lunch or a light dinner, our food delivery service on board is for you.
Book Online Meals Delivery
There are many options for train travelers when booking meal delivery online. Some of the most popular and ordered menu options are:-
Vegan Thali, Non-Veg Thali, Budget Thali, Mini Thali, Maharaja Thali, Deluxe Thali
Thalis are the best-selling item in rail travel. Passengers love the beautifully packaged and easy to use Thalis when eating on trains. It is a healthy meal that usually includes a portion of dal, sabzi, rice, roti/paratha, lettuce, pickle, raita, etc. The combination may vary depending on the type of Thali purchased. You can see the items included in a Thali in the description part below the menu item name.
Biryani and Pulao
Veg Pulao, Chicken Biryani are enjoyed by most of the passengers on train journeys. It is easy to handle and consume in take-out rice preparations and is super tasty. They are usually served with raita, salan, gherkin, etc. The combination of different flavors, masalas and ingredients like fried onions and tomatoes gives it the perfect aroma.
 Online Train Food Order Delivery at all Railway Stations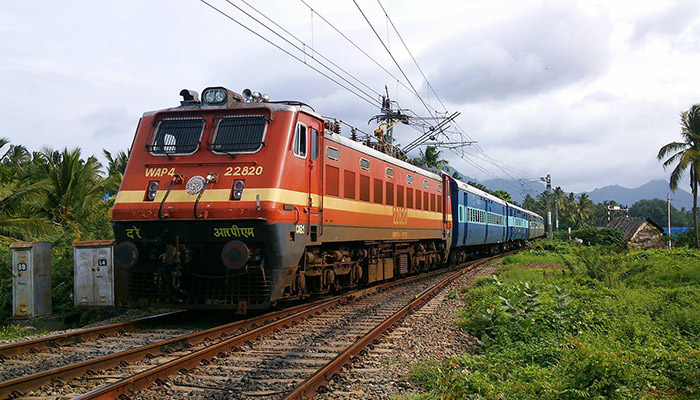 Popular Fast Food – Pizza, Burger, Pasta, Sandwiches, Noodles, Rolls
These items are the most popular among children and adolescents and can be handled on trains without a problem. Most of the vendors offer these super tasty and delicious menu options. So go ahead and satisfy your hunger.
South Indian Dishes
Masala Dosa, Idli, Wada, Upma, Uthappam with spicy sambhar or chutney will surely make your train journey interesting. The chefs of the best restaurants prepare these dishes in the way that suits you best when you travel.
Regional and Traditional Food Specialties
Every city in India boasts of its unique flavor and aroma. Each city is known for its famous culinary specialties. We recommend our users to try the delicious dishes of well-known cities on their next train trip on Travelkhana.
Non-Veg Menu
Non-vegetarian lovers will find the best options for ordering food on trains at Travelkhana. From chicken biryani to egg curry or butter chicken to mutton curry, you will find everything here from the best restaurants.
Order Breakfast, Lunch, Dinner in Train
You can order an early breakfast or light dinner at any time on the Travelkhana train. Our services are now available at most stations. You can plan your meal times around station stop times on your train journey.
Order Food for All Trains Online
You can now order food online while running on track all trains including Shatabdi and Rajdhani Express. Online catering services are most beneficial for passengers traveling on trains without pantries. We show a list of all stations if you want to order food with the name or number of the train. The order can also be reserved by calling our customer service at 8800313131. Our trained staff will help you place the order as needed.
Steps to order food online using train name or number
Please follow below steps to order food with train name or number:-
Visit the Travelkha website and click on "Search by Train Name".

Start typing the train name or train number in the search field,

You will see a dropdown menu with a list of moves that match your entry.

Click on the train that matches your search

You will be redirected to a new page that will display a list of all stations and restaurants.

Choose your favorite delivery station and restaurant,

Select menu items from the displayed online menu,

You can pay online or in cash at the time of delivery,

Your order confirmation will be sent by SMS and delivered to your train seat.
Steps to order food online for trains by station name
Please refer to the steps below to request train food delivery for a specific station:-
Visit the Travelkhana website and click Search by Station Name.

Start typing the station name or station code in the search box,

You will see a list of stations in the dropdown list that match your entry.

Click on the name of the station you want to select

A list of restaurants in this station and also nearby stations will be displayed,

Order at any restaurant of your choice,

Pay for your order online or at the time of delivery,

Your order will be delivered to your seat at the selected station.
Online Train Food Order Delivery at all Railway Stations