---
Best Experience the Euphoria of Travelling with Your Soulmate in February
February is considered the month of love all over the world. Valentine's fervor spread among the people. Also in India, people this time welcome the hottest season of spring, adding more charm to the month. Many people plan surprises for their loved ones in February and buy roses, chocolates, and gifts. To celebrate enthusiast month, you need to plan something. Why not plan a surprise trip with your lover and spend a lot of time discussing all the ups and downs of your relationship, clicking lots of photos, planning your future and most importantly enjoying each other's company?
Traveling is a panacea. It produces intense feelings of euphoria, especially when traveling to a beautiful, peaceful, and picturesque place with your loved ones. Giving a gift of travel to a strange destination in February is full of fun, happiness, and love, isn't it?
In case you don't know where to plan your trip. Don't worry; Travelkhana has made it easy for you by compiling a list of the best destinations to travel in February. So buckle up, spin around and dive into the blog to find the perfect destination for your Valentine's week.
Best Places to Travel in February
Here is the list of the best destinations that will revive a spark of great connection and love where you can plan your trip in February.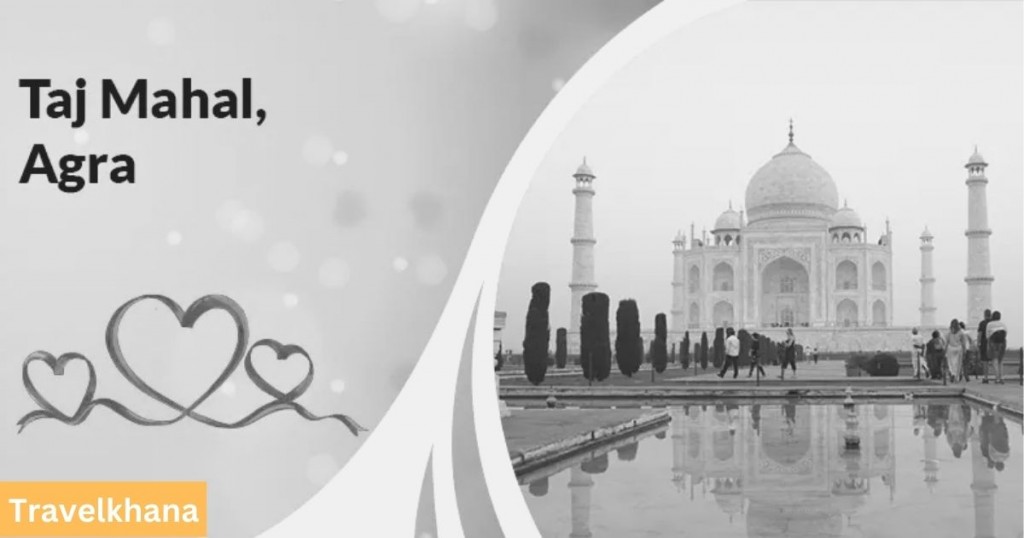 The Taj Mahal, Agra
When it comes to listing romantic travel destinations, the Taj Mahal, one of the seven wonders of the world, always wins first place. The beautiful marble structure on the right bank of the Yamuna River depicting the famous story of Mughal Emperor Shah Jhan and his beloved wife Mumtaj Mahal is one of the best places to confess your feelings to your partner.
To plan your visit to the famous Taj, you can take a train. The train ride gives you plenty of time to enjoy the chaotic normal life. Travelkhana train information app helps you to plan your train journeys efficiently.

Lakshadweep
What better way to celebrate Valentine's week than on a glorious island of Lakshadweep. Lakshadweep is a UT in the Arabian Sea widely known as the honeymoon destination of India.
To reach the delightful destination of Lakshadweep, you can take a train to Ernakulam Junction Station in Kochi. Lakshadweep gate. And from there take a plane or a boat to reach the islands of Lakshadweep. Traveling by boat is best to enjoy the amazing atmosphere of the sea. A special train and boat trip to Lakshadweep in February is full of adventure, excitement and beauty.

Andaman and Nicobar Islands
The island is the most popular type of travel for many of us. I hope this has to be on the wish list of you and your beloved partner. The picturesque Union Territory on the Bay of Bengal offers a variety of fun activities for couples, including snorkeling, scuba diving and island hopping. There are several beautiful beaches in Andaman and Nicobar Islands including Radhanagar Beach, Elephant Beach, Kalapathar Beach, Bharatpur Beach, Laxmanpur Beach etc.
This is the best place for beach lovers. In addition, it is also a paradise for nature lovers. The unspoiled beauty and culture of this country is a must-see for everyone. To plan your Valentine's trip to the Andaman Islands, you can take a train ride to Kolkata, Chennai or any other major Indian city and fly to Port Blair from there. Boat trips to Andman are not normally recommended as fewer boat operations are available
Hampi, Karnataka
In this world of social media, it's a blessing to have someone by your side who takes great photos. How about using your amazing skills and creating your Instagram profile for couples with great photos in beautiful travel destinations? Hampi is an amazing place in India and offers a unique combination of history and nature. Here are several ancient temples, monuments, beautiful landscapes and rock formations that you can click with, sit near the sights and please the person who will be next to you in any situation.
To plan an exciting trip, take a train to the nearest station in Hampi, Hospet Junction, HPT. It is located 13 km from the beautiful village of Hampi.
Spiti Valley, Himachal Pradesh
The Spiti Valley, a remote spot in Himachal Pradesh, is one of India's top romantic attractions. It is known for its beautiful lakes, rugged landscapes, traditional villages, and monasteries. People from all over India come to this place to witness the stunning view of Himachal Pradesh.
You can shortlist Spiti Valley from the list of places to visit in February and plan to celebrate your Valentine's Day week in this enchanting destination. The nearest railway station to Spiti Valley is Joginder Nagar railway station. You can check online for trains between stations near you and Spiti Valley to easily plan your train trip.
Kodaikanal, TamilNadu
Kodaikanal is a beautiful mountain village in Tamil Nadu known for its beautiful lakes, waterfalls, evergreen forests, and bedrock. This is one of the best places to visit in February and spend Valentine's weekends with your partner. Here you can ride a bike with your partner near the coast, visit various temples and experience the history and culture. Kodaikanal, the princes of hill stations, is a romantic destination that can captivate you and your partner due to the cool and misty climate.
To get to Kodaikanal, you can take a train to Kodai Road Station or Dindigul Station. And from there, you can take a bus/taxi to reach your destination.
Thekkady, Kerala
If your partner is a brave person and a natural panther, there is probably no better destination than Kerala. Thekkady is an amazing travel destination in Kerala known for bamboo rafting and scenic views of the forest along with mammals, birds, reptiles etc. Here you can see several endangered species. With your partner, you can explore the Periyar National Park, go bamboo rafting and pose together amid the beauty of nature.
To reach Thekkady, you can take a train to the nearest station, Kottayam Junction. And from there, you can take a bus as a cheap travel option, or take a taxi or car to have some privacy during the trip.
 
Almora, Uttarakhand
Uttarakhand is one of the best Indian states to travel to. It has many valleys and beautiful destinations for adventurers and nature lovers. Rishikesh, Auli, Mussoorie and Chopta are some places in the state. Almora is one of the scenic tourist destinations in India, located in the snowy peaks of the Himalayas. It is known for its rich culture, delicious cuisine, and unique crafts. From the city, you can go on various treks including Jageshwar, Pindari, Mornaula, Mukteshwar, Binsar and Ranikhet among others.
You can reach Almora by train to Kathgodam station, about 90 km from the valley. Kathgodam railway station connects major cities like Delhi, Lucknow, Kolkata and Dehradun. From there you can easily reach Almora by bus or taxi.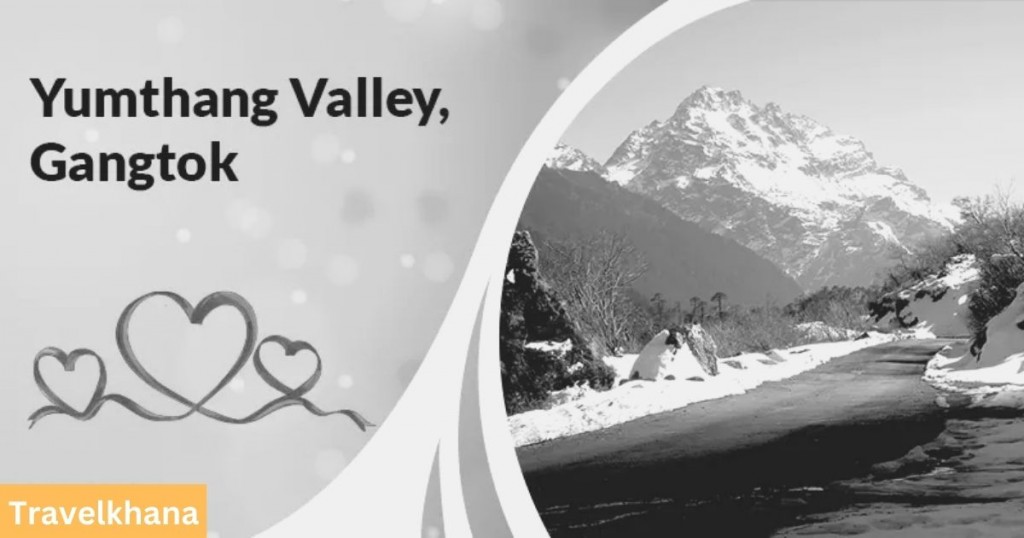 Yumthang Valley, Gangtok
Enjoying the spirit of spring in India is a great feeling. In Yumthang Valley, popularly known as the "Valley of Flowers" in Northeast Sikkim, a variety of blooming flowers including rhododendrons, poppies and primroses can be seen covering the valley in many colors from February to June. It is the perfect Valentine's Day and honeymoon destination in India that offers not only beauty but also adventures like trekking and hiking.
You can reach Yumthang Valley by taking a bus/taxi from New Jalpaiguri railway station in West Bengal. It is well connected to all major railway stations in India.
I hope this list helps you find your Valentine's Day resolution that you can enjoy away from the chaos of your life.
Jaipur, Rajasthan
If you are ready to introduce the magnificent heritage of India, Jaipur is a perfect destination for Valentine's Day. In India's Pink City, you can strike classic romantic poses in various palaces, historical buildings, and buildings. India's historical and cultural city offers a variety of stunning destinations for couples like Jal Mahal, City Palace, Hawa Mahal, Amber Fort, and more.
You can plan an unforgettable journey from Indian Railways to Jaipur with authentic Rajasthani cuisine on the train. Travelkhana and its many services help you plan your journey efficiently.
Is February a good time to travel?
Yes! February is a great time for travelling. The romantic ambiance in cities, the lovely weather, and the love surrounding the air encourages people to visit several romantic destinations in India.
What are the best places to go in February?
Hill stations like Kodaikanal, beautiful valleys like Yamthang, and cultural destinations like Jaipur are great places to visit in February. You can easily plan your journey to these places with Indian Railways. Travelkhana, a railway information app, helps you plan your journey efficiently. The app allows checking PNR status, live train operating status, trains between stations and more. Order Food in Train
Also, the app allows you to order your favorite food on the train to satisfy your travel hunger. With the help of this app, you can plan everything like breakfast, lunch and dinner on the train and enjoy your journey with your crush. Order Food in Train Online
Best Experience the Euphoria of Travelling with Your Soulmate in February