---

Indian Railways offers a biometric token system for unreserved long-distance trains and is one of the major transportation systems in India. Many people depend on it for their journey from one place to another. It often happens that people cannot have confirmed tickets due to late trip planning and low budget.
In this case, they usually get train tickets without a reservation. For this reason, they may have to deal with being rushed. People almost fight to get seats on the buses without reservations. To solve this problem, reduce the rush of trains and create a disciplined crowd.
Biometric token system: Overview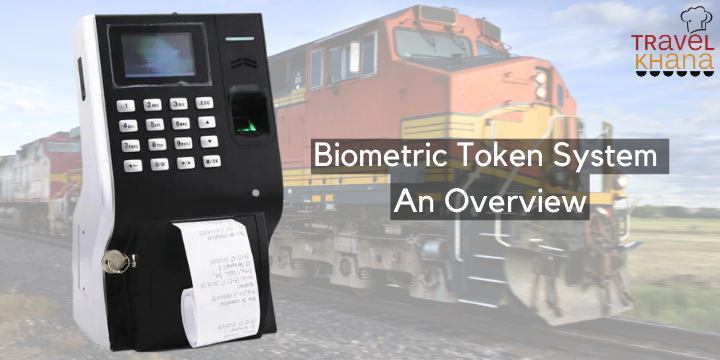 A biometric token system is a process through which train passengers obtain train tickets on Indian Railways for general carriages with biometric verification. In this system, train passengers buy their train ticket at a non-reserved platform ticket office operated by staff of the Railway Protection Force under CCTV surveillance. This system is portable and easy to transport from one platform to another. To get tickets, train passengers need to scan their fingers. They then receive a token.
You should know that tokens are distributed on a first-come, first-served basis. Therefore, travelers should arrive at the station 60-90 minutes before the long-distance train is scheduled to depart. The personnel of the Railway Protection Force use the biometric machines to issue tokens to railway passengers traveling in general compartments. In addition, passengers must form a queue according to their ticket number near the door of the general compartment of the train a few minutes before the arrival of the train. The passengers then board the general car and take their seats on the train.
Things to Know About Indian Railways Biometric System
The biometric token system allows train passengers to board carriages smoothly and without reservation and enables rail systems to secure the biometric data of train passengers. As with general tickets, the railway does not request any data from the train passenger, such as booking a reserved train ticket.
Token System's biometric ticket booking process improves rail security and helps the system identify violators.
When purchasing tickets for general class coaches, passengers are required to scan their fingerprints and take photos with the biometric machine.
The generated token number will be serially equal to the number of seats in a particular general class carriage.
Passengers will need to line up on the platform a few minutes before the train arrives to board safely.
RPF personnel will be designated at the door of the general class car to verify the card number and allow passengers to board the car in an orderly manner.
The biometric token system will only work at the station from which the train departed.
The biometric token system contains the passenger's name, PNR number, train number, token number, and destination station name.
A biometric token system will also prevent black marketing of unreserved tickets.
Your machines collect and store data locally for one year.
Rail systems can use biometric data to analyze crowd patterns.

Main trains for which tickets can be obtained from the biometric system
These are some of the main trains for which General Class passengers can obtain tickets through the biometric token system.
Paschim Express – Paschim Express, 12925 originates from Bandra Terminus for Amritsar, Punjab. The train route covers Ratlam Jn, Kota Jn, Mathura Jn, Chandigarh and Ludhiana. Passengers can get unreserved tickets for Paschim Express with biometric verification at the terminal.
Avadh Express: Originating from Bandra Terminus, Avadh Express, 19039, connects Bandra with Gorakhpur. The train has the largest number of sleeping cars. Passengers can take train tickets for the unreserved compartment of Avadh Express with a token system at Western Railways Bandra Terminal.
Jaipur Superfast Express – Covers major railway stations like Surat, Ratlam, Bhawani, Kota, and Jaipur Superfast Express, 12955 and departs from Mumbai Central Railway Station. Passengers can get their unreserved train ticket at Mumbai Central Station for Jaipur superfast express.
Karnavati Express: Karnavati Express, 12933, is a super-fast express connecting Mumbai Central to Ahmedabad Junction. It leaves Mumbai at 1:40 PM and arrives at 9:05 PM in Ahmedabad. The train goes through Vapi, Surat, Vadodara, etc.
Golden Temple Mail – Departing from Mumbai Central Railway Station, Golden Temple Mail, 12903 is a major train running in the Western Railway area. To ensure a confirmed seat in their general compartment, passengers can take out an unreserved ticket at the biometric counter.
The best railway station in India with the installation of the biometric token system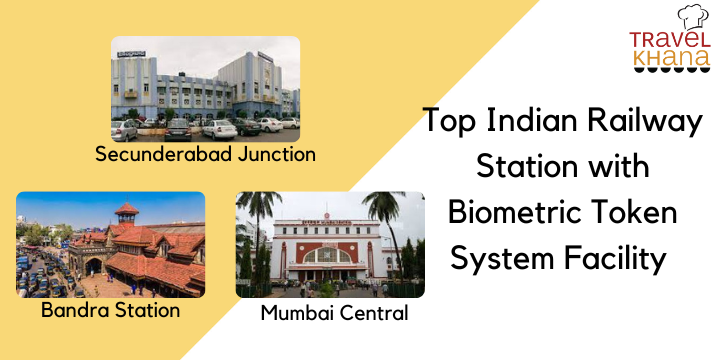 A biometric token system facility is available for limited train stations. Major train stations with the biometric token system include:
Secunderabad Junction, SC
The Southern Railway Zone Station, Secunderabad Junction, South Carolina, is a major railhead in the urban area of Hyderabad. It is found on the Nagpur, Wadi, Kazipet, Vijayawada, Guntur, Manmad and Dhone section railway lines. The station with 10 platforms handles around 110 trains per day.
Mumbai Center, MMCT
Western Railway's area station, Mumbai Central, MMCT, serves as the main railway station in Mumbai for local and intercity/express trains with separate platforms. It handles around 22 trains per day.
Bandra Station, BDTS
Bandra Station, BDTS, is another major station serving the financial capital of India, Mumbai. Its 7 platforms serve about 58 daily trains. Western Railway has installed a biometric token system to ensure passengers don't have to worry about boarding trains with unreserved tickets.
You should know that the railway biometric token system is only available in limited stations and for certain trains. UTS ticket reservation service will help you at stations where a biometric reservation system is not available to get unreserved train tickets.
What is a biometric token system facility? 
The biometric token system is an initiative of Indian Railways to facilitate the travel experience for general ticket holders for long-distance trains. In this system, train passengers are assigned a symbolic number and based on this number, they board their train and get a confirmed seat in the general compartment.
How does the biometric token system help rail passengers?
When travelers issue a token number, passengers are in no rush. This reduces the risk of fights at the point of entry to the general compartment of the train. Furthermore, since it also allows the passenger to have a confirmed seat, passengers on long journeys can order healthy and hygienic meals from IRCTC online catering during the trip.
Travelkhana train app helps train passengers to order food on trains online. In addition, its multiple AI tools help travelers to check ticket PNR status, live train running status, train schedule, ticket price, etc.
With the Travelkhana train inquiry app, you can efficiently plan and execute your train journey.
Railways Biometric Token System to Get Confirmed Seat in Unreserved Coach