---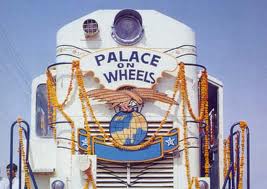 If we're talking about the history and origin of a certain thing, it means that it holds a high regard in our lives. And Palace of Wheels is a prestigious symbol which represents luxury travel in our country.
Palace of Wheels is the 4th most luxurious train in the world and India has a great deal of reasons to label it as a Luxury train nonetheless. But, how many of you know the background of this concept? Through this special blog, we'd like to acquaint you with the history and origin of this luxurious train.
It all began in the 1850s when a scientist, an industrialist and a visionary George Mortimer Fullman invented the first Fullman sleeping car. In the era when most of the trains were capacitated with uncomfortable, plainly fitted chair seats; Fullman came up with the Pioneer in 1864. It was the first railway carriage with attached dining and sleeping cars and since then the era of luxury trains began.
Since its inception, Fullman has marketed his sleeping car concept as a luxury for the middle class thereby setting up a fare five times higher than that of a normal rail car. To turn his invention further into a public figure, he arranged Abraham Lincoln's body to be carried in those so called luxury compartments.
Around 1867, Fullman had envisioned a great potential in luxury sleeping cars and went ahead to introduce "President" also known as the "Hotel Car", exclusively for the high and mighty of American aristocracy.  The best chefs from America were hired to cater to this train thereby adding to its prestige. Gradually, the President became a preferred mode of travel for loaded industrialists, bureaucrats and ministers.
Going almost this way for an entire century, the enticement of luxury trains then reached India. On 26th January 1982, Palace of Wheels treaded down its first journey under the joint venture of Indian Railways and RTDC. The railway coaches were meant precisely for erstwhile rulers of India such as the princely states of Rajasthan, Gujarat, Nizam of Hyderabad and the Viceroy of British India.
These coaches were not being used by the Indian Railways after independence in normal passenger trains on account of very rich and traditional interiors. Now, historical world allure has been juxtaposed well with the modern facilities that turn every voyage into a surprising retreat for the travellers with word class service.
Now, if you compare the food served in these trains with what we are now served in expensive long passage runs like Rajdhani, Shatabdi or Duronto; chances are that you'd be left salivating. However, with TravelKhana, you can Order Your Favourite Food While Travelling in Train. Simply dial 8800138811 today and find out yourself.
To know more about our services log on to www.travelkhana.com 
Palace on Wheels – The Origin of Luxurious Trains