---
Right from the time of its introduction in the subcontinent, Indian railways have managed successfully to meet the growing demands and requirements of its passengers and enhancing its services with each passing day. The fact is that travelling by train has become all the more pleasurable, fun and exciting these days, since things have become digitized and modern machinery, equipments, and gadgetries being adopted by the Indian railways. With time, Indian railways has tried to expand its network to cover remote cities, towns and villages located throughout the country and every year, new trains and routes are being added to provide much more convenience to the passengers. Besides all this, the stations are being given a fresh look, being made sophisticated and computers and the web being used for tracking trains, signaling purpose and for ticket booking and the like.
Availing enhanced facilities
The advent of the net has proved to be a boon for those frequent travelers, who are required to travel to different destinations every now and then, because of the demands from their workplace or due to business. Whatever be it, traveling by train is no more boring, dull and a painful experience. The trains of today have been much more modernized, boast of having seats that are much more comfortable to relax both sitting and sleeping during the whole journey. This way, the passenger does not feel tired anymore. Further to this, he is also able to get peace of mind and sleep without any tension, since there are present railway security personnel on each and every train in good numbers, who patrol all the bogeys of the train, to make sure that all types of anti-social elements are kept out and those having valid tickets can enjoy their travel to their choice of destination.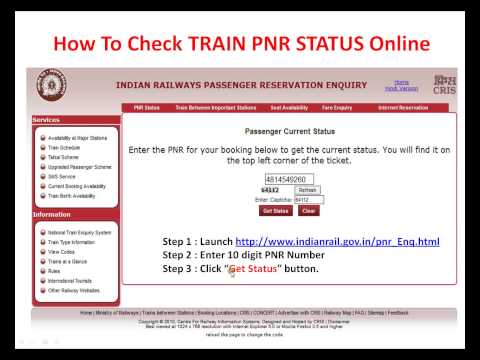 Knowing the ticket status
The frequent traveler often has to travel every now and then, without prior planning, depending upon the business or personal requirements. He can simply book the tickets through his mobile and check the Indian rly pnr status to ensure he has got a confirmed ticket. The best part is that he can book a ticket on the train of his choice even when he is on the way to the station, using his mobile phone, something that was not present even a decade ago.
With each passing day, technology has been changing, bringing new things for people to experience and benefit from it. There are present sites like Travelkhana that not only provides valuable and updated information on Indian railways, the trains, routes, timings and fares, including status of the tickets, it also allows the traveler to order his food with the click of a button.
It is all these facilities which are presently being availed by the modern citizens of the country that has made travelling by train cozy and filled with pleasure and to ensure that the reason for their travel is fulfilled, much to their satisfaction.
Hence, by using the advanced services available, the common man can make the most of his journey by train.
Enjoying travelling by Indian railways