---
The Deccan Odyssey is one of the India's special luxury trains which is modelled on Palace on Wheels. This train is operated by Maharashtra Tourism Development Corporation Ltd in co-operation with Indian Railways and Ministry of Tourism . During the journey you'll be treated with a combination of alluring beaches, history, forts, and architecture. You'll travel through the night to different locations, and can explore them in the day.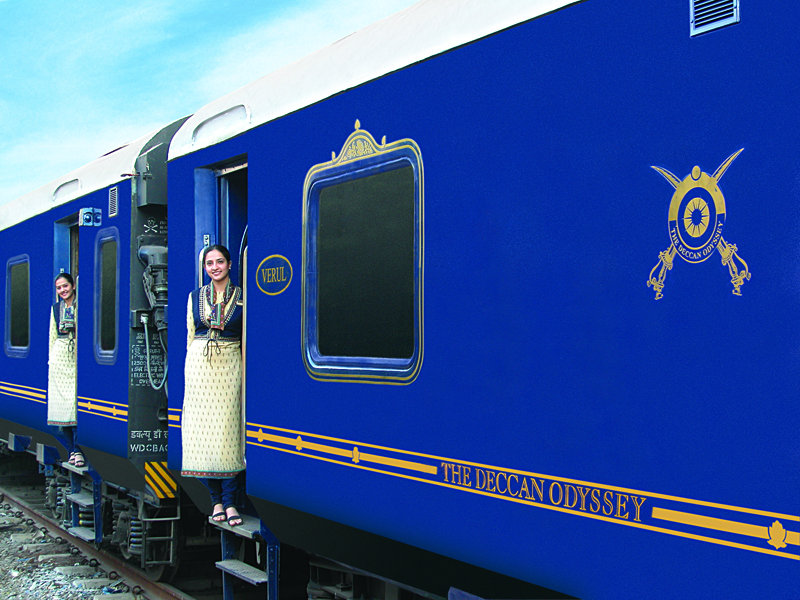 Features of Deccan Odyssey:
As the Deccan Odyssey is designed to reflect the Indian royalty, so it is decorated in ornate style. The interiors of its carriages have been inspired by the forts of the Deccan Plateau and popular tourist places visited by the train. The train has 21 coaches, 13 of which contain passenger accommodations. Similar to a luxury hotel, there are presidential suites, spa, gymnasium, business facilities, fine dining restaurants and bar in this train.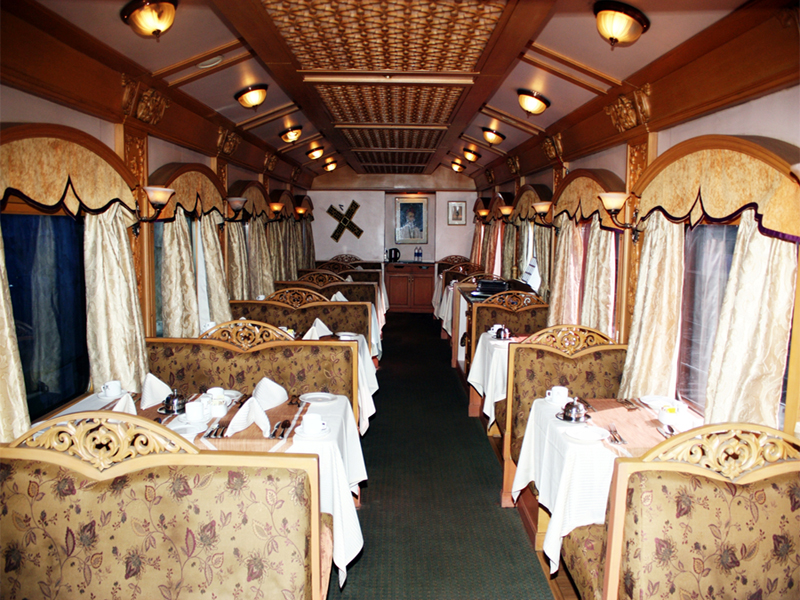 Route of Deccan Odyssey:
The train departs on Wednesday evenings from Mumbai and visits Ratnagiri, Sindhudurg, Goa, Kolhapur, Pune, Nashik and Aurangabad (Ajanta and Ellora Caves).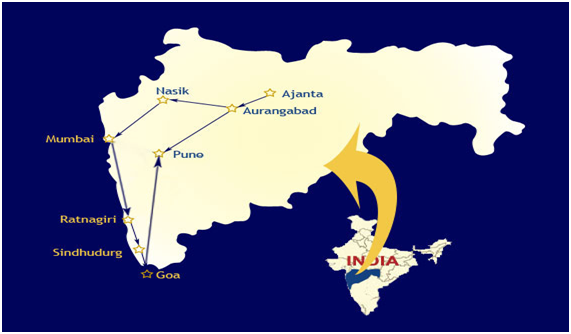 Journey Duration and Destination Details of Deccan Odyssey:
Seven nights/ Eight days.
Day 1 (Wednesday):- Departs from Chhatrapati Shivaji Terminus, Mumbai
Day 2 (Thursday):- Sindhudurg Nagari (Visit to Sindhudurg fort and Tarkarli Resort)
Day 3 (Friday):- Goa(Visit to famous Churches and Museum)
Day 4 (Saturday):- Kolhapur (Visit to The Shalini palace,Mahalaxmi temple & New Palace)
Day 5 (Sunday):– Aurangabad (Visit to Daulatabad fort and Allora caves)
Day 6 (Monday):- Bhusawal ( Visit to the Ajanta caves and Tadoba National Park)
Day 7(Tuesday):– Nasik (Visit to Panchwati Ghats and Temples)
Day 8(Wednesday):- Arrival in Mumbai
The train arrives back in Mumbai the following Wednesday morning.
Deccan Odyssey Cost:
Passengers can either stay in a deluxe cabin or Presidential suite.
For Lean season September 2012 & April 2013 Departures (per person per night):
Occupancy Type
Deluxe Cabin
Presidential Suite
Single occupancy
USD 500
USD 750
Double occupancy
USD 390
USD 650
Triple occupancy
USD 315
USD 300 for extra Occupancy
Half fare for children between 5 and 12 years.
For Peak season October 2012 to March 2013 Departures (per person per night):
Occupancy Type
Deluxe Cabin
Presidential Suite
Single occupancy
USD 650
USD 950
Double occupancy
USD 500
USD 800
Triple occupancy
USD 425
USD 370 for extra occupancy
Rates include accommodation, meals, sightseeing tours, entrance fees to monuments, and cultural entertainment. Service charges, alcohol, and day programs in Goa and Mumbai are extra.
 Deccan Odyssey Reservations:
You can make a reservation for travel on the Deccan Odyssey by visiting the Maharastra Government's tourism website: www.maharashtratourism.gov.in. Travel agents also make reservations for this luxury train.
Other Information about Deccan Odyssey:
The Deccan Odyssey runs from September until the end of April each year. It stops during the really hot and monsoon months.
Tour Dates for the year 2012-2013 are as follows:
Confirmed Departures
1. 12.12.2012 to 19.12.2012
2. 02.01.2013 to 09.01.2013
3. 09.01.2013 to 16.01.2013
4. 16.01.2013 to 23.01.2013
5. 23.01.2013 to 30.01.2013
6. 30.01.2013 to 06.02.2013
7. 20.03.2013 to 27.03.2013
Provisional Departure Dates (Subiect to Response):
1. 03.10.2012 to 10.10.2012
2. 10.10.2011 to 17.10.2012
3. 27.03.2013 to 03.04.2013
4. 17.04.2013 to 24.04.2013
To know more about Indian railways keep visiting our blog , like us on facebook: facebook.com/travelkhana. Follow us on twitter: twitter.com/travelkhana.
To order food during your train journey simply dial 8800138811 or visit: www.travelkhana.com
The Deccan Odyssey Train—The luxury tour from Mumbai to Goa