---
It is true that we tend to undermine the importance of the places we often visit but dream of far flung unknown lands. However, at times visiting a familiar land brings nostalgia, joy of which is enigmatic. Orchha, plays a similar role in my life. Being close to Jhansi, my maternal grandparents home, I have visited this small village many times. Every visit has been a different experience. Sometimes, the stunning sunrise and morning scenes by the Betwa River awed me, the other times I was moved by the tangerine sky of dusk, birds making their way home leaving the historical structures on their own selves.
Once a princely state of India, Orchha is now a lesser visited tourist town of the Bundelkhand region in Madhya Pradesh State. It is a 16th century town built by Bundela Rajputs on the banks of River Betwa. Every nook and corner of this small town dwells in history so much so that you'll be completely enchanted by the architecture it offers.
Things to do in Orchha 
Take a Heritage Walk around the town and live its history. Orchha has fort, palaces, memorials and temples and every structure has a story to tell.
Watch Light and Sound show at the Raja Mahal. Orchha has two palaces Raja Mahal and Jahangir Mahal.  Raja Mahal which clearly indicates palace of the King i.e. his residence.  A palatial structure of 16th century which has murals from mythology depicted on its walls. Jahangir Mahal was a gift to the Mughal Emperor Jahangir by the then King of Orchha as an intention to befriend him. In return all the taxes for Orchha to the Mughals were excused. The show happens every evening and costs Rs.250.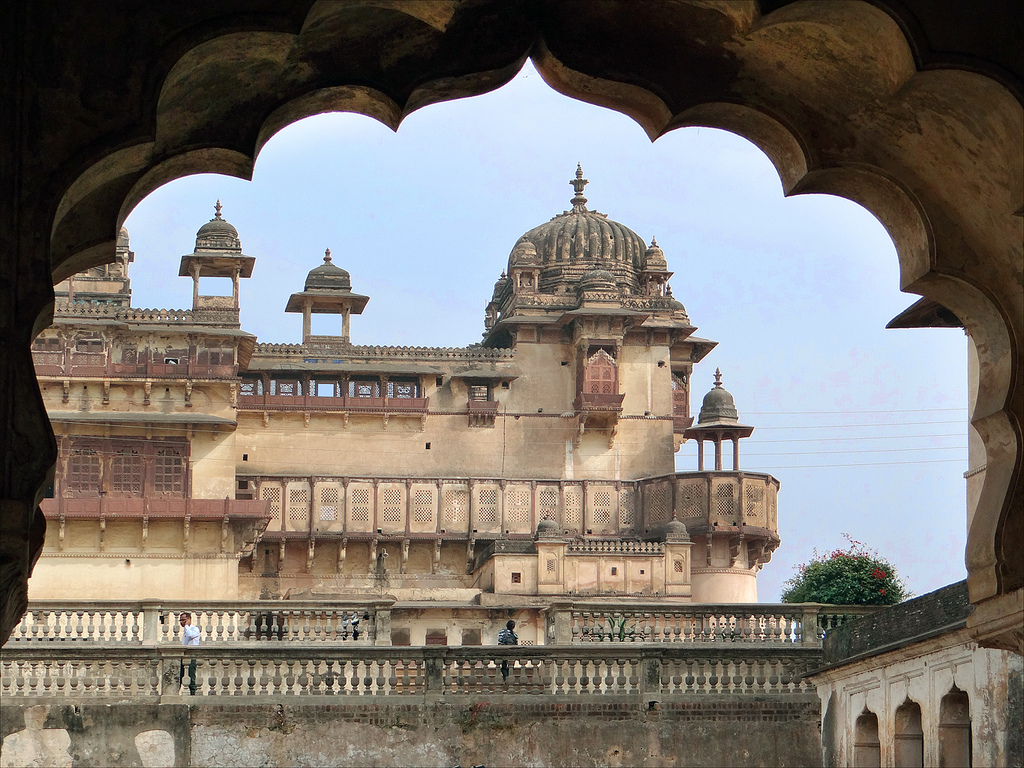 Watch the ceremony of Guard of Honor which is paid to Lord Ram daily at Ram Raja Temple. This is the only temple in the country where Ram is worshipped as a King and not God which is why ceremony of Guard of Honor happens everyday.
Sit and spend some time reflecting at the peaceful garden of Cenotaphs of the Kings of Orchha, the peaks of which are visible across the Betwa.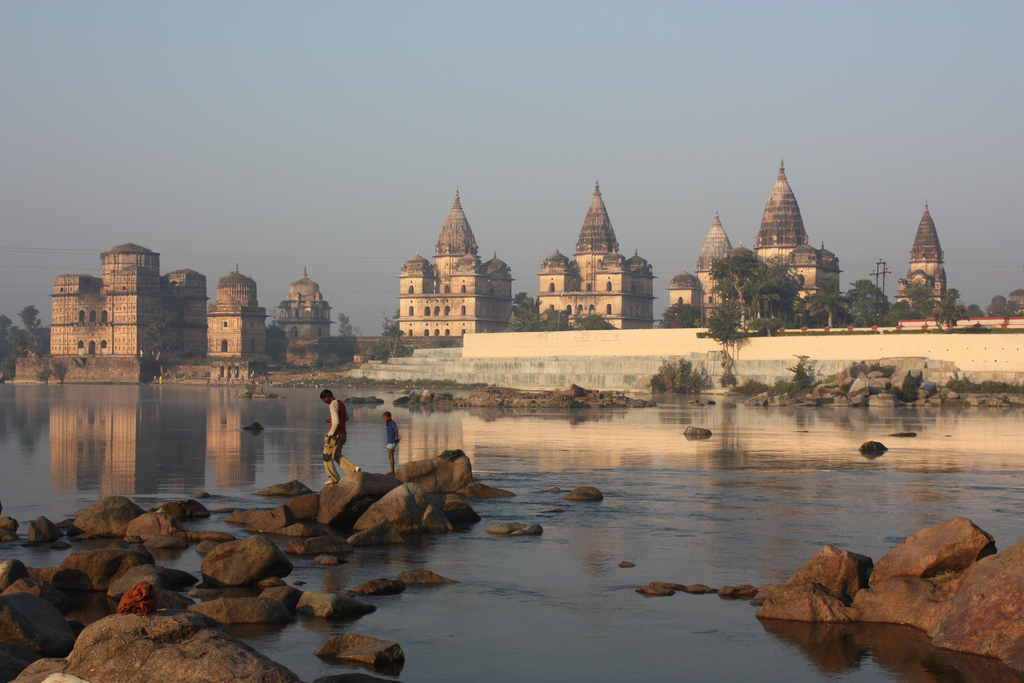 Rafting on Betwa River is becoming popular these days and can be organized through a local agent. One can enjoy sunrise or sunset and bird watching from the river.
Take a safari in Orchha Wildlife Sanctuary. The habitat is not very rich but if you are lucky you will be able to spot deer, monkey, antelopes and migratory birds.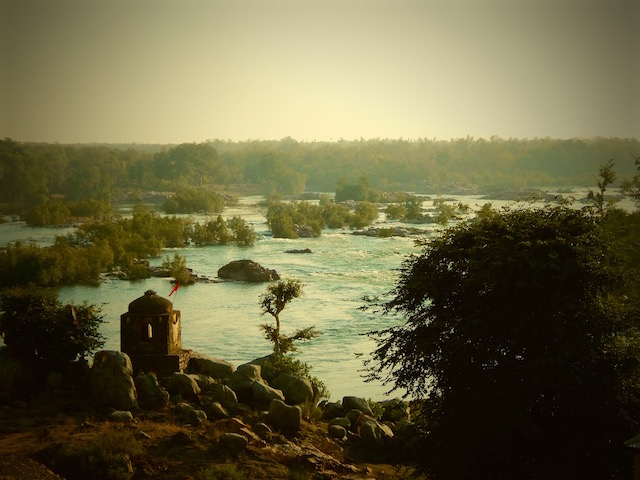 Local Food: Bundelkhandi food is confluence of Madhya Pradesh, Uttar Pradesh and little bit of Maharashtra and Rajasthan.
The famous Dal Bafla can be found everywhere which is loaded with ghee.
Different varieties of chapatis such as Adraeni which are puris made of gram flour mix with wheat and salt; Tikra which are thick as compared to rotis and is cooked on fireplace.
Matar ki Kachori and Besan ki Papdi are home delicacies and are generally eaten in breakfast with tea.
Karela Chaat is a snack which I have only eaten in this region. Unlike its name, it is not made of bitter gourd but salty fried snack which is in the shape of bitter gourd (karela).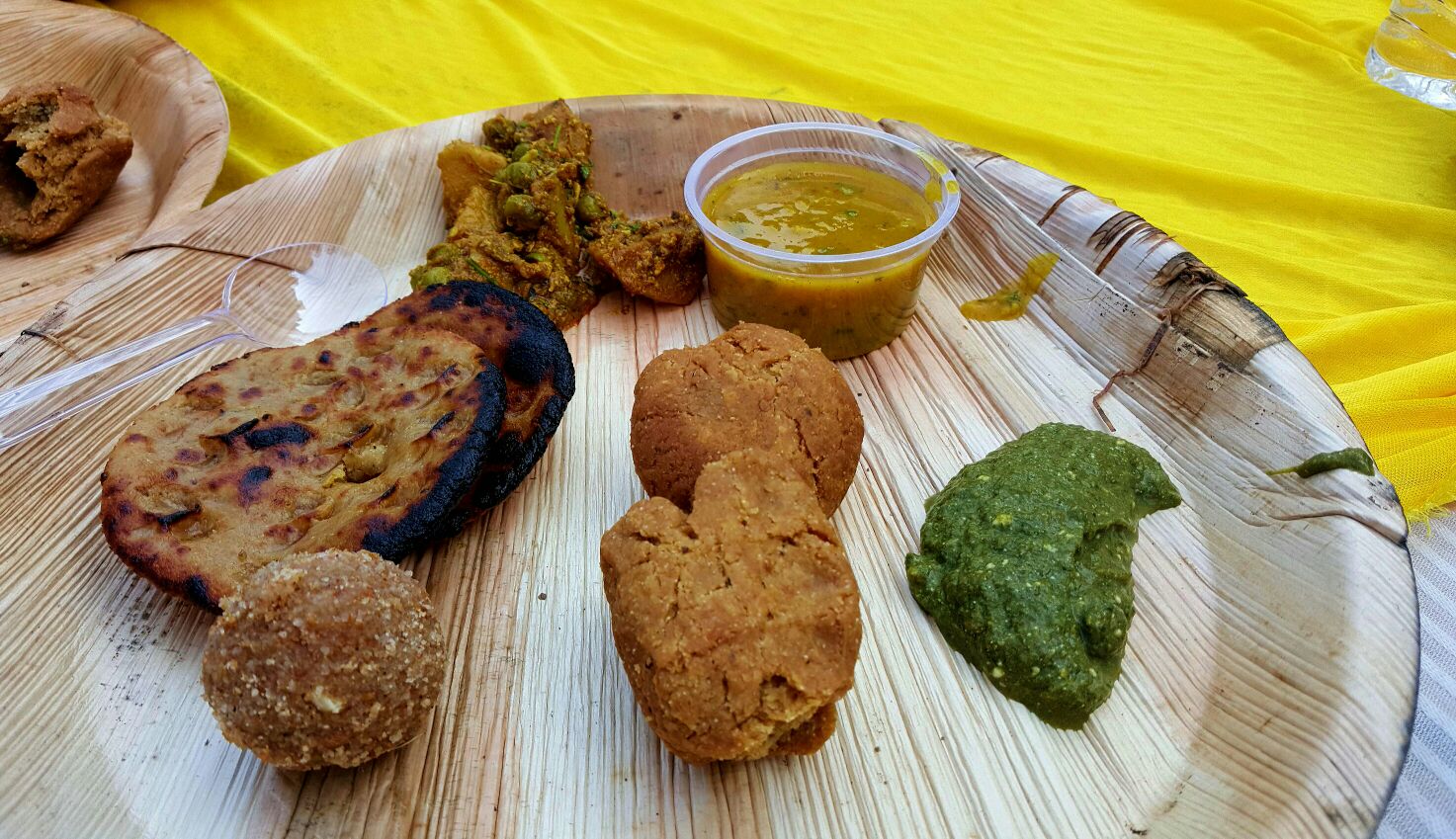 How to reach: Orchaa is 8 hours away from New Delhi and is a perfect weekend destination in winters. Jhansi Railway Station is just 15 km from Orchha and is accessible from every part of the country. Superfast trains like Shatabdi, Rajdhani and other major trains halt at Jhansi.
Feature Image source: Ross Huggett, Flickr CC
Follow us on Facebook and Twitter
We deliver good food in trains. Download our mobile app from Google Playstore