---
Food Delivery in Train at New Delhi
Food Delivery at New Delhi Station- A hub of cosmopolitan culture
In India, the New Delhi railway station is one of the largest and busiest railway stations. There are 16 platforms in total. More than 350 trains arrive and depart from this station. More than 500,000 passengers travel daily. It is located in the center of Delhi, near Connaught Place. For many Shatabdi and Rajdhani Express is the main hub. This station occupies 86 hectares of land. This is a Wi-Fi enabled station. During the 2010 Commonwealth Games the station was expanded and upgraded. The station is also used for commercial and retail purposes.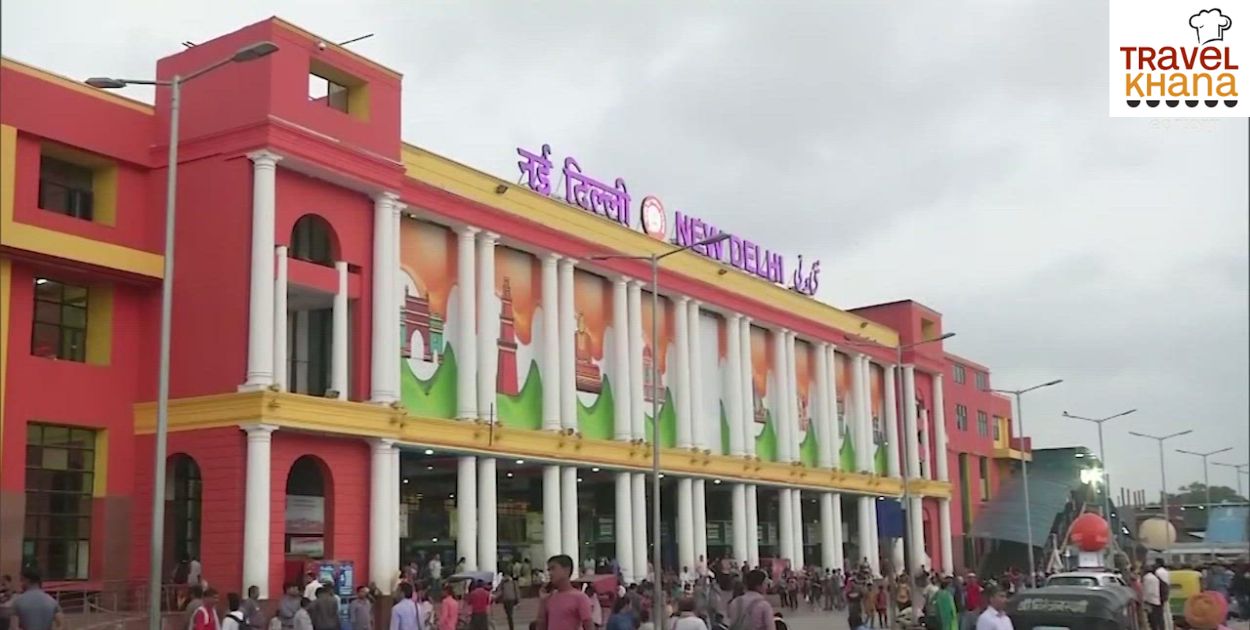 Online food delivery in train at New-Delhi Station
Pantry Car Facility is available with Kerla Express, Bhopal New Delhi Shatabdi Express, GT Express, Tamil Nadu Express etc. Connected with New Delhi railway station, trains like Jaisalmer – Delhi Express etc. They are the type of trains that do not offer food to their passengers and the passengers have to survive somehow.
Order Food on Train at New Delhi (NDLS)
In Delhi, Chandni Chowk is also a popular shopping destination. It is famous for its sarees and zari jewelry. Delhi is famous for Zardozi and Meenakari. In September, there is "Famous Phool Walon ki Sair". Flowers are offered at Yogmaya Temple and at Khwaja Bakhtiyar Kaki. You are in Mehrauli. During the Qutub festival, many dancers and musicians perform and show their talent.
Online Food Delivery in Train at NEW DELHI Junction
Based on the above factors, Delhi draws a big no. by tourists from all over India and abroad. The New Delhi railway station is the busiest. Providing meals at your train seat is a tough job and Travelkhana is a major player in this business. The tourist clientele is growing rapidly. People can order hygienic food from Traveler Food via text message, website, mobile app or phone call. These healthy foods are provided by various restaurants whose minimum order is Rs 150/-, whose service time is at least 30 minutes after ordering the food. NEW DELHI railway station food delivery ensures you hygienic and fast food delivery to your seat.
Order Food Delivery in Train at New Delhi Railway Station
Delhi Junction is one of the major junctions of Indian Railways, the record for which is listed in Guinness World Records. Delhi, the capital of India, has a storied past, a well-developed political administration and a hub of tourists who gather from all over the world to imagine the old and present Delhi. Today, Delhi Junction has the world's largest line stop and one of the busiest railway stations in India, with around 250 trains leaving and crossing every day. There are other major railway stations connecting to central New Delhi such as Delhi Shahdara Junction, Pragati Maidan, Delhi Kishanganj and Subzi Mandi Railway Station. Other stations that handle the influx of trains in Delhi are Delhi Sarai Rohilla Station, Hazrat Nizamuddin Station and Anand Vihar Station. Apart from the history and current administration, Delhi is famous for its food culture and the variety of dishes it offers to the locals and tourists alike.
The Delhi Metro
The Delhi Development Authority planned to build a multi-modal transport system for the city. Later, DMRC was included in the plan in 1995 and construction started from 1998. Delhi Metro has three phases and 8 colored lines running from one place to another. DMRC has proposed building two more phases in the future. These lines are:
Red line:
It was the first metro line connecting Rithala (west) to Dilshad Garden (east) and had a length of 25.09 km. Any metro passenger can board at Dilshad Garden metro station, which passes through major stations such as Shahdara, Kashmere Gate, Inder Lok, Netaji Subhash Place, Rohini East, Rohini West and Rithala.
Yellow line:
The Yellow Line Metro was the second metro line and the first metro in Delhi. It connects the Samaypur Badli road with the HUDA center in Gurgaon. Any train passenger wishing to travel to the New Delhi railway station from any part of Delhi should board the Metro Yellow Line train. The New Delhi railway station is just one station after the Chandni Chowk railway station. It is one of the busiest metro stations in Delhi.
Blue line:
The Blue Line was the third metro line in Delhi and the first to connect areas outside of Delhi. It connects the lower town of Dwarika with the Noida sectors.
Green Line:
The Metro Green Line is the fifth line of the Delhi Metro network. It connects Inderlok (red line station) and Bahadurgarh Municipal Park.
Purple Line:
The Violet Line is the sixth line of the Delhi Metro. It connects Mujesar Escorts in Faridabad with Kashmere Gate in New Delhi.
Orange Line: Airport Express:
The Airport Express Line runs from New Delhi Railway Station to Dwarka Sector 21 and connects to Indira Gandhi International Airport.
Majenta Line and Pink Line are part of the Phase 3 metro construction. Magenta Line offers a direct connection to Indira Gandhi International Airport Terminal 1D and Pink Line currently connects Majlis Park with Lajpat Nagar.
Famous Spots to Taste Cuisines of Delhi:
Delhi cuisines is a mix of delicacies available across India. Fried chole bhature, dhoklas, kebabs, chole kulcha, parathas, biriyani, nalli nihari, various chaat, momo, lassi and the list is endless. Some of the famous places to try this cuisine are Chandni Chowk (famous for Awadhi Specials Street Food and Paranthe Wali Gali), the best served Chaat is Bittu Tikki Wala at Karol Bagh; Daulat ki Chaat and Natraj Dahi Bhalle Wala at Chandni Chowk, Khan Market and Nizamuddin for kebabs. Try Kareems restaurant for the best kebabs. Khan Chacha in Khan Market and Qureshi's Kabab Corner in South Extension are famous for their variety of buns. Greetings to Food Capital!
Order Food in Train at Delhi Junction:
Order food on the train at Delhi Crossroads and experience New Delhi's fresh and tasty delicacies delivered conveniently to your berth. Our premium online catering partner SAGAR BAR BE QUE at Delhi Railway Station offers a more extensive menu for passengers. From Awadhi Biriyani to vegetarian/non-vegetarian Chinese curries and smoked tandoori items, it can all be ordered with just a few clicks. You can place your food order at the Delhi railway station through our website or Travelkhana mobile app. The types of food served at the station are:
Variety of vegetarian and non-vegetarian thalis

Non-vegetarian curries such as (chicken, egg and fish curries)

Spicy Chicken Pizza

Naan, Roti, Lacchaa Paratha, Aaloo Paratha etc.

Combination menu plate (vegetarian and non-vegetarian)

Jain Meals (11 Varieties of Jain Recipes and Dishes without Onion and Garlic)

Paneer vegetarian dish preparation like Paneer Handi, Shahi Paneer, Paneer Butter Masala

Use discount codes:
If you are traveling in a group and want to try these amazing dishes on the train in Delhi, ask our representative to call you or chat with our digital food experts. Our representatives will be happy to help you order food on the train at the Delhi station. You can pay online through our secure payment gateway or opt for cash on delivery (COD).
Food Delivery in Train at New Delhi