---
20 Most Popular Railway Stations Famous for Local Foods in India
Order Online Cheap Veg and Non-veg Food on Running Train Enjoy Journey. Grab The Best Offers on Food in Train Food Delivery by Our Travel and Rail Khana Services. Food Deivery in Train.
The Indian rail system is more than just a means of transportation. Because they take us on a journey through different communities, regions, religions, and cultures, they also have great cultural value. The Indian Railway (IR) also spans the entire country and has more than 7,300 stations. In addition to some of the most beautiful train routes in the country, they will take you through several stations. You will then be able to taste various specialties from the federal state you visited.
Also, some of these stations offer delicious regional food. And everyone knows how diverse Indian cuisine is. It is very diverse, from the intense and delicious cuisines of the northeast to the sugar-rich cuisines of Gujarat. From non-vegetarian dishes from the coastal belt to stunning South Indian strains. Food delivery in train. Order food delivery in Train. Online Food Delivery in Train.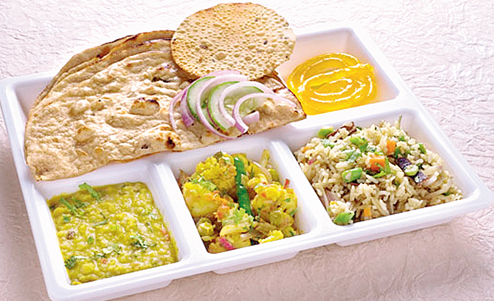 What Brings Local Food?
Popular Foods in India to Explore in Different Seasons
The Best Indian Food to Try at Indian Train Stations
Which Indian station has the best food?
How can I order local or regional food in India while traveling by train?
Travelkhana and delicious Indian cuisine on trains
Bulk Orders on the Train
What's the point of eating local food?
Local foods are better because they are fresher, tastier and more nutritious. Additionally, "local cuisine" refers to food that is prepared and eaten within a short distance of its origin. Cooking techniques, especially those typical of a region, greatly influence these dishes.
Local foods allow you to try a wide range of dishes. They also stimulate small farmers and the economy by attracting money and creating jobs. Also, train stations are the best places to try the local foods of a particular region while traveling.
Above all, you will understand the local traditions, culture and ingredients of a region. It's much better to do this with locals who can offer their inside information and answer your questions.
Popular foods in India to explore at various railway stations
What could be better than eating treats or snacks at these seasons? So spice up your next train journey by exploring these Indian railway stations. Try some of these delicious regional dishes while you wait for your train. Now let's take a look at the 20 most popular railway stations famous for local cuisine in India.
Best Indian foods to try at Indian Railway Stations:
Lal Chah at Guwahati Station
Assam's magnificent tea plantations produce some of the best teas in the world and attract visitors from all over the world. Visitors to Assam must especially try the Lal Chah (Lal Chai). This is regularly sold in the neighborhood tea shops near Guwahati station. Sweet and sour flavors are created by adding lemon juice, sugar, and spices to black tea. If you visit Assam after a downpour, you will find that many people appreciate Lal Chah.
Aloo Dum at Kharagpur Railway Station
Skip the calories and enjoy the Aloo Dum at Kharagpur Junction. It is one of the most varied types of Indian cuisine. And of course, don't be afraid to ask for extra masala!
Litti Chokha at Patna Junction Station
Litti-chokha, a delicious Bihar dish, has a distinctive deshi flavor and aroma. People use ghee-soaked wheat flour dough to prepare litti, a traditional Indian dish. This litti also has ground gram powder. Today, people prepare chokha by pounding tomatoes and brinjal with garlic and salt.  Travelkhana in Patna Junction also serves locally cooked litti-chokha for train travelers.
Sandesh at Howrah Station
Passing through Howrah on your train journey? Then the sandesh from the local sweet shops in Howrah station is a must. Traditionally, Bengalis have a custom of gifting Sandesh sweets to family and friends. It is a delicious Indian dessert that melts in your mouth. In addition, it is also an ancient sweet, said to date back to the 16th century, so it is worth trying.
Fish Curry at Jamshedpur's Tatanagar Junction Station
If you're looking for the best railway station cafe in India, look no further than Tatanagar Junction or Jamshedpur railway station. You will find fresh fish in a homemade dish prepared with a variety of aromatic spices. This fish curry is then served with salads of boiled rice, onions, tomatoes, and coriander. This is a dish that you should definitely try when you are in Jamshedpur station.
Kanda Poha at Ratlam Station
Yes, it is the same station as Jab We Met. But it wasn't just the movie that made Ratlam famous. Ratlam Pohas are too good to pass up! Everyone in the country knows Ratlam Junction Station for its Kanda Poha. Poha is a steamy and spicy morning meal. Its alluring aroma entice travelers to get off the train and buy something from the local vendors at the station. They are definitely worth a try.
Aloo Chaat at New Delhi railway station
Aloo Chaat made in Delhi is nationally known for its taste and aroma. If you arrive by train, you must try this spicy potato snack at the New Delhi railway station. The main ingredients are chips mixed with spices, chutney, lemon juice and more. It's delicious!
Moong Dal Pakoda at Bareilly Station
Bareilly is more than politics. It is also known for its food scene. And everyone loves the moong dal pakoda, a local speciality. If you are in the area, be sure to stop by a food stall at Bareilly Junction in Uttar Pradesh and pick up some hot fried pakoras to satisfy your cravings.
Aloo Tikki at Tundla Station
A famous Aloo Tikki is available at the Tundla railway station in Uttar Pradesh. This regional dish is said to have the tastiest Desi Tadka. While boarding the trains that use the Howrah-Delhi line, you can try these aloo tikkis. They offer the ideal mix of spicy and sweet.
Kadhi Kachori at Ajmer railway station
The kachori dahi and the crispy kachori make a wonderful combination with the kachori kadhi. If you pass through Ajmer station and don't try Kadhi Kachori, you are committing a cardinal sin! You will see it for sale on every street. And it will make you drool looking at it.
Daal Vada and Idli to Vijayawada Station
Masala Vada or Dal Vada and Idlis are famous local specialties in Tamil Nadu. Who doesn't love soft, chewy idlis and crunchy, crunchy vadas? There are several Dal Vada and Idli vendors at the Vijayawada railway station in Andhra Pradesh. Basically, these delicacies are two of the most popular tourist attractions in the resort.
Come Pongal and Uthappa at Guntakal station
South Indians often serve the famous rice and lentil dish known as "Come Pongal" to God, especially during the Durga Puja festival. Uthappa or Uttapam is another dosa type food with tasty fillings. Passing through Guntakal station, don't miss Ven Pongal and Uthappa, a dynamic local combination!
Rava Dosa at Chennai Central Station
All across the country, people love a good rava dosa. It is also the most common dosa variant. Visitors to Tamil Nadu must try the Rava Dosa at the Chennai Central Railway Station. Vendors on the platform sell crispy dosa with different fillings, as well as vegetable stews.
Kozhikode Halwa at Calicut Station
Calicut Station offers the most authentic type of Kozhikode Halwa. People make this Kerala Halwa with coconut oil, flavorings, and dried fruits. Traveling through Calicut by train, travelers often stop for this delicious delicacy to satisfy their sweet tooth.
Milky Coconut Stew with Appams at Thiruvananthapuram Railway Station
In Kerala, Thiruvananthapuram railway station is known for its Appams and milky coconut stew. People use fermented rice and coconut batter to make these delicately sweet appam funnels. And along with onion-rich coconut milk stew, appam is the best local dish to enjoy in Thiruvananthapuram station.
Pazham Pori to Ernakulam Station
Pazham Pori is a Keralan banana fritter dish. Every taste of this Malaysian favorite will lift your spirits. And you can find the best Pazham Pori at Ernakulam station. You can enjoy it with a cup of coffee or tea on the go.
Camel milk tea at Surendranagar station
Camel milk tea has been around for quite some time. But camel milk tea at Surendranagar station is something else! The camel milk tea from Surendranagar station is a must. With each sip, you'll just say "delicious."
Chole Bhature to Jalandhar railway station
Punjabis are famous for their love of food and chole bhature is undoubtedly one of their most popular dishes. If you don't get a chance to try several, have a taste of this delicacy at Jalandhar station. Jalandhar railway station serves authentic and delicious chole bhature.
Lassi At Amritsar Railway Station
Lassi at Amritsar railway station is a great way to refuel before a trip to Punjab. This traditional Punjabi drink contains yogurt, cream and dried fruits. Traditionally, lassi is served with kulcha or paratha bread.
Sweet Potato Vada and Pav Bhaji at Mumbai Central Station
Pav Bhaji is the most famous street food in Maharashtra or even India. And sweet potato vada is another famous street food among the locals due to its distinctive taste and texture. When passing through Mumbai Central Station, don't forget to try these two regional specialities. Because they really reflect the spirit of the region and its people.
Which Indian Train Station Has The Best Food?
India's railway stations are famous for serving some of the best food and snacks. Also, traveling to a new place can be made more interesting by trying some of the local dishes. You can order and taste the best food, street food and restaurant food in many Indian stations.
For example, Chole Bhature at Jalandhar railway station,
Aloo Chat at Delhi Railway Station, Pav Bhaji and Batata Vada at Mumbai Central Railway Station, Sandesh at Howrah Railway Station etc. are some of the options. For this reason, it is important that you stop at a specific station and check it out.
How Can I Order Popular Indian Dishes On The Train?
With just a few clicks, you can have your favorite regional cuisine delivered directly to your seat on the train. Follow these instructions to order local food at any Indian station.
Visit the Travelkhana  website or the Food On Track app.
You can also call the toll-free number 1323 to place your order.
After entering your 10-digit PNR, you'll see a list of places where you can order food delivery during your trip.
After that, options for restaurants with a menu will appear.
Choose the delicious local dishes you want to eat.
Make your purchase, pay online by choosing a payment method and finalize the transaction. You can also choose "cash on delivery" and pay cash on delivery.
Complete your purchases and remain seated until your food arrives
Travelkhana  and Delicious Indian Cuisine on Trains
Local cuisine is a popular option for passengers at Indian stations. With Travelkhana, you can easily have the most delicious local specialties from across the country delivered right to your seat. You can also place your order by calling our customer service on 1323. Everything from traditional Ajmer cuisine to the famous Ratlam Poha is available through Travelkhana. Order the freshest and tastiest local cuisine at train stations across the country. Your order will then be delivered directly to your seat on the train.
Bulk Orders on the Train
You can also order in bulk if you are traveling with family or friends to save big on your online grocery delivery. In addition, we make sure that vendors prepare food in hygienic environments because we care about your health and well-being. As long as you're a fan of Indian food, we'll make sure you never go hungry as you travel through railway stations across the country. Imagine how exciting it would be to try food from different regions while sitting in your seat on the train and enjoying it all!
Frequently Asked Questions
about Popular Stations Known for Local Foods in India
What groceries are sold at the station?
Local vendors sell many local delicacies and lollipops at the station. But other than that, you can always get fresh and hot treats from the restaurant right from your seat on the train.
What catering is on the train?
You can order from a variety of dishes and cuisines available at Travelkhana.
What are the popular foods in India?
Some of the most popular varieties are Sandesh, Pakoras, Rajma Chawal, Uttapam, Dosa, Idlis etc.
Is there food on Indian Railways?
Yes absolutely. You can order food during the train journey through Travelkhana.
What are the protein rich foods in India?
Non-vegetarian protein sources for Indians include poultry and meat. While vegetarian sources include legumes, lentils, dairy products, seeds, etc.
Is there an app for food delivery on the train?
Yes, with the Travelkhana Food On Track app, you can have food delivered to your seat on the train.
20 Most Popular Railway Stations Famous for Local Foods in India