Comfortable Journey Is Just a Click Away
Over the time, the Indian Railways is consistently trying to improve and enhance its services, considering the ease and convenience of travellers. In the last few years, a lot of innovations has been applied and executed by the department and many more are still in pipeline. The main purpose is to let travellers enjoy and have a comforting journey altogether in trains. The comfortable journey is just a click away and till date, people can book reservations online, using the official site of IRCTC, make changes in the ticket if needed, cancel reservations, look at the seat availability in different coaches in the trains, check the real time running status of trains, time table, trains running in between specific stations, etc. The new initiatives that the department took on pilot basis are providing cash on delivery payment method for making reservations in trains, providing eco friendly vacuum toilets in trains, free wi-fi in trains as well as at stations, introducing hi-speed bullet trains and likewise. With such advancement and improvisation from checking out the live time running status of the trains to availability of healthy and nutritious meal in them to making bio vacuum toilets available, indeed the country is moving on the development track.
Since its inception, Indian Railways has been at your service from the very beginning. It is very often considered as the lifeline of the nation because it connects more people to each other than any other medium. Anyone can travel easily wit Indian Railways after all it requires to have a ticket. With growing technology, Indian Railways has also braced up its speed and it is moving along with technology. Gone are the days when you had to stand up in the long lines to get your ticket done. The technology has enabled you to reserve your train tickets from anywhere 24*7. Although there is still lot to be done when it comes to the internet connectivity and not everyone uses the internet, yet for the Indian Railways seat reservation, there are other ways too.
Reservation is mandatory irrespective of class in which you are travelling. All you need to do is to go to the reservation office of your nearest railway station. Fill the reservation form and put in your valid and correct details correctly and get your ticket done.
Travelling by Indian Railways is one of those journeys, which you will cherish for the lifetime. Keeping in mind the needs and requirements of the passengers, Indian Railways has incorporated many user-friendly services and one of them is doing everything online from checking the seat availability to booking the ticket, you can do it all online. It is very helpful when it comes to tracking the train as you can also do it online. But you should keep in mind these useful points while booking your ticket or travelling with the Indian Railways.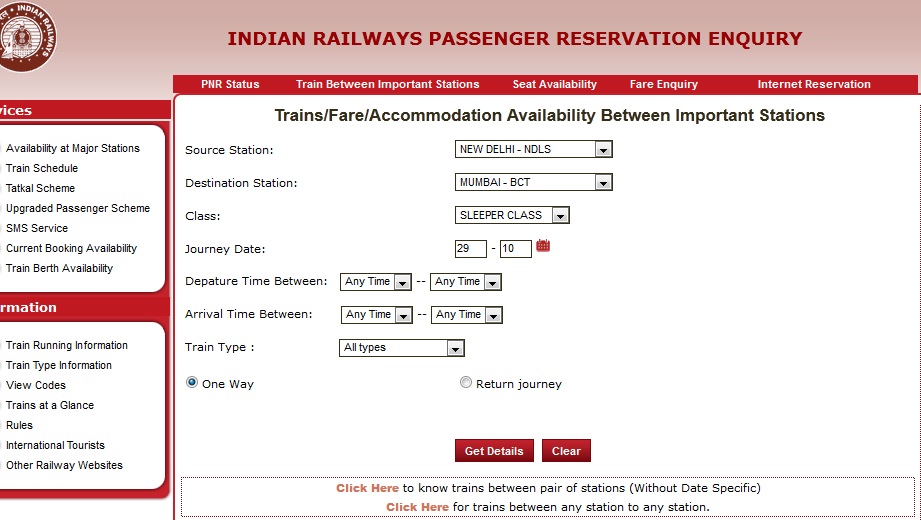 Tatkal Booking service opens a day before the departure of the train from its originating station. i.e. if a train departs from New Delhi on 2nd November and you want a Tatkal reservation in that train then you must book your ticket on 1st irrespective of your boarding station.
Seat Reservation on Tatkal Basis requires the photocopy of your valid identity proof when making the reservation offline or over the counter, and the identity card number, if you're booking your ticket online.
Always carry your identity card when travelling in Indian Railways.
Never travel without the ticket as it is a crime and can attract imprisonment or heavy penalty.
   Keep tracking your train with the help of online enquiry systems of Indian Railways, which can help you in not getting late and also if the train is late you can reach station comfortably on its arrival time.
Advance reservation period has been extended up to four months, i.e. you can book your seat in your preferred class four month prior to your journey.
Have a brief knowledge about Time Table of Indian Railways as It save your blushes.
Today travelling in the higher class of Indian Railways is considered as good as travelling in an airplane because of facility Indian Railways offers. It is considered as more hassle-free than any other mode of transportation.
Welcome On Board!!
Indian Railways Luggage Rules: Limit, Extra Charge And Other Details
Are you looking for information related to Indian Railways Luggage Rules, including Limit, Extra Charge and Other Details? Indian Railways has specific luggage carrying norms, where each passenger is allowed a free allowance. In AC first class, the free allowance capacity is 70 kgs and marginal allowance is 15 kgs. After the free and marginal allowance capacity, the penalty is there depending on the coach you are travelling and the upper limit. In AC 2 tier, the maximum quantity permitted is 100 kgs. In AC 3 tier, it is 40 kgs. In sleeper category, it is 80 kgs. In second class sitting, it is 70 kgs. The boxes, trunks and suitcases with a measurement of 100 cms*60 cms*25 cms will be allowed to carry as personal luggage in the passenger compartments. The children aged five and below 12 years will be allowed to half of the allowance capacity accessible, subjecting to a maximum of 50 kgs as per the Railways norms. The maximum size of the suitcase or the trunk allowed in the AC chair car or AC 3 tier coach must be having dimension 55 cms*45 cms*22.5 cms. The large dimension luggage can be carried via a brake van for which the minimum charge is Rs. 30.
How to book tickets using IRCTC
Nowadays comfortable journey is just a click away by using IRCTC website as everything is in your reach and whether you need to book tickets, or look for the time table of any train, or seat availability in them, or else, one can do through the same without any hassle. These days, there is no more need to reach by the station and buy the tickets from the counter like travellers need to do in earlier times. Those days are gone and with the Indian Railways platform, IRCTC, one can do almost everything within seconds as it has been not more than a blessing as everything is within reach and using internet connection, and with the availability anywhere, booking tickets and making your journey comfortable is now in your hands. To make the reservations or do anything through the site, one has to first make an account over the site. Once it is done, login using the user name and password and enter in the website. From there, one can first look for the trains running between source and destination stations on the preferable date of travel, and then make the reservations accordingly. Hope, the information is useful and knowledgeable.