---
It was more than a decade ago when one of my trips to Bangalore took a rather interesting twist. Convinced by my sister, we decided to make a surprise visit back to our family in Kolkata. She had just started working and I, of course, was a student on a budget.
Nonetheless, the two of us, accompanied by her best friend, decided to make through the very long train journey from Yeshwantpur to Sealdah with only one berth reserved. However, what we didn't pre-empt was it was our first time travel in a sleeper class.
Such are the thrills of a surprise visit.
Our journey started on a bad note. We were running late for our train and perhaps would have even missed it. Eventually, when we did make it, we boarded into the wrong compartment.
The first sight of the sleeper class wasn't as frightening as it eventually became. Our plan was to negotiate with the TTE and beg him for another berth. Needless to say that we didn't know the rare sightings of the TTE in our coach. So we waited for endless hours till one of us actually went in search of him.
Returning with bad news, we now knew that we only had this one lower berth to our luxury. And thus began the process of making peace with the dust, heat, noise, one berth for three in the sleeper class.
To add to its charms, there were two young men on the opposite berth who were trying to be a bit too familiar. It didn't feel great to know that we couldn't turn away from them and their constant let's-get-to-know-the-neighbour attitude didn't really go down well with us. And so we ignored them as much as we could.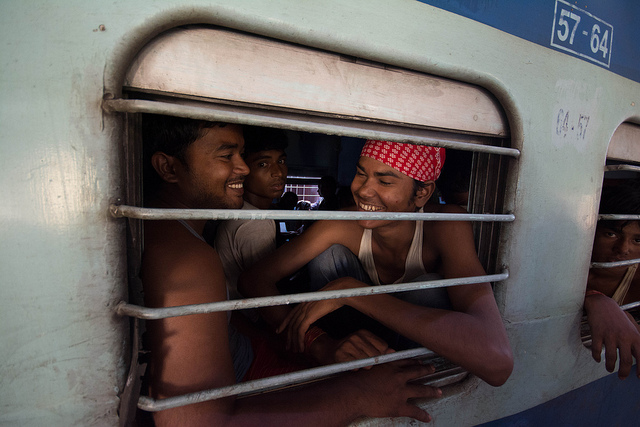 The exasperatingly long 38 hour journey seemed endless. It was peak summers and we were going through the heartland of Indian plains. With the hot air and the dirt in the compartment, our surprise journey was soon turning itself into a shocking nightmare.
The situation probably reached its peak when we were somewhere in Bihar.
The three of us were taking turns to lie down and at a point, we were all sitting-sleeping. Uncomfortable as it was, it seemed the only posture that ceased us at that point. In the next couple of hours, we realised it was seven of us in that one berth and there were two people sleeping near our feet. This was a chock-a-block and we didn't know how to get out.
At this point, we were quite desperate.
Remember those young boys whose cheesy smiles irked us? They stepped in like guardian angels.
In the darkness of the night and within the chaos of the compartment, the two fellows, stood up (I have no idea how they managed their footing) and cleared the plus four travellers from our berth. Next they requested one of the two men pretending to sleep near our feet to move away. Even though this was still inconvenient, by now we were only counting our blessings.
As the sun rose, among the three of us, we had little or no sleep. But thankful to the boys, we didn't sit rubbing shoulders (nearly arm-in-arm) with random men. The remaining part of our journey seemed somewhat easy. With the boys giving us tips on how to travel in this coach and familiarising us with the upcoming halts, so that we could buy some food.
In such an unfamiliar trail, the people we tried to avoid had now become our friends. We got well acquainted with each other and there seemed to be no awkwardness between us. The journey between Bangalore and Kolkata was another night away. But since we had our new friends on our side, it wasn't as overbearing anymore.
We reached Sealdah a little before dawn. It was pitch black and as we bid goodbye to our friends in the train, my sister and her friend had decided to keep in touch with our helpful co-passengers.
Once we reached home, the surprise was evident on our family members' faces. Though we wouldn't have been spirited if not for our companions in the train.
Sometimes, train journeys show us the unwillingness to change in us. And once we do give in, it is a world where you can trust strangers.
Share with us a memorable moment from train journey that left you changed.
Featured Image – Image source: www.streetwrk.com, Flickr CC
Follow us on Facebook and Twitter
We deliver good food in trains. Download our mobile app from Google Playstore
Train stories – To trust or not to trust strangers