---
Top Gluten Free Foods You Can Order on Train Travelkhana
Travelkhana facilitates the best gluten free food on train to enjoy their journey without worrying about their health. Order food in train online
Definitely! Food excites us. We want to enjoy every culinary art, but sometimes we can't. Since then, different human bodies have functioned in unique ways. Some people may be prone to food allergies, sensitivities, and medical conditions that require special diets. Celiac disease is one of the abnormal dietary immune responses that affects approximately 1% of people worldwide. These people should avoid foods that contain gluten. Gluten-free foods are also a dietary requirement for people who have an intolerance to gluten-containing foods.
If you follow a gluten-free diet and you are concerned about your diet during the train journey. No problem! Travelkhana takes care of that. In this blog, we have compiled a list of gluten-free foods that you can order on the train through Travelkhana
Gluten Foods: An Overview
Foods that contain gluten, a group of proteins found in grains such as wheat, barley, and rye, are called gluten-based foods. Most people can digest gluten without any problem. But there are people with celiac disease or non-celiac gluten sensitivity who experience serious problems after eating foods that contain gluten. Therefore, you must follow a strict gluten-free diet.
You can easily follow any type of diet at home, but it becomes difficult when you travel to another place. Hard to deliver a gluten free meal outside. But that's not the case with train meal services, Travelkhana makes it easy to deliver the best gluten-free train meals to ensure that all train passengers can enjoy their train journey without having to worry about their health.
Best Gluten Free Foods for Your Indian Railway Journey
Poha is a natural gluten-free Indian food that you can enjoy with peace of mind. The dish is made from flattened rice by stir-frying it with turmeric, chili powder, onion, mustard seeds, etc. Poha is easy to cook and can be made with eggs. You can order this gluten-free meal on the train. However, to achieve true gluten-free poha, a requirement for gluten-free dishes must be specified in the cooking suggestions when ordering the train meal, so that the restaurant chef does not use a frying pan or oil that comes into contact with wheat. And cereals.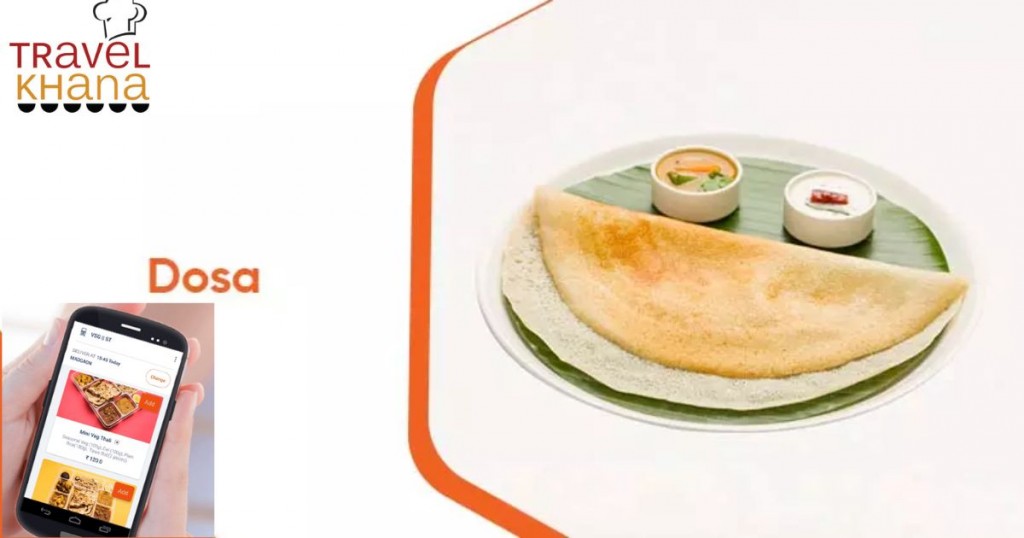 Dosa
Dosa is the traditional and most famous dish in South India and it is also on the gluten free food list. It is a healthy and tasty breakfast option for people on a gluten-free diet. The dish is made with rice flour, chickpea flour, chemical yeast and a filling of potatoes, peas, etc. You can get the gluten free dosa served on the train with peanut chutney and healthy vegetable sambar. Crispy and delicious, dosa is an easy dish to make that requires a special skillet to prepare. However, if you strictly avoid gluten-rich foods, you should mention them in the special cooking instructions.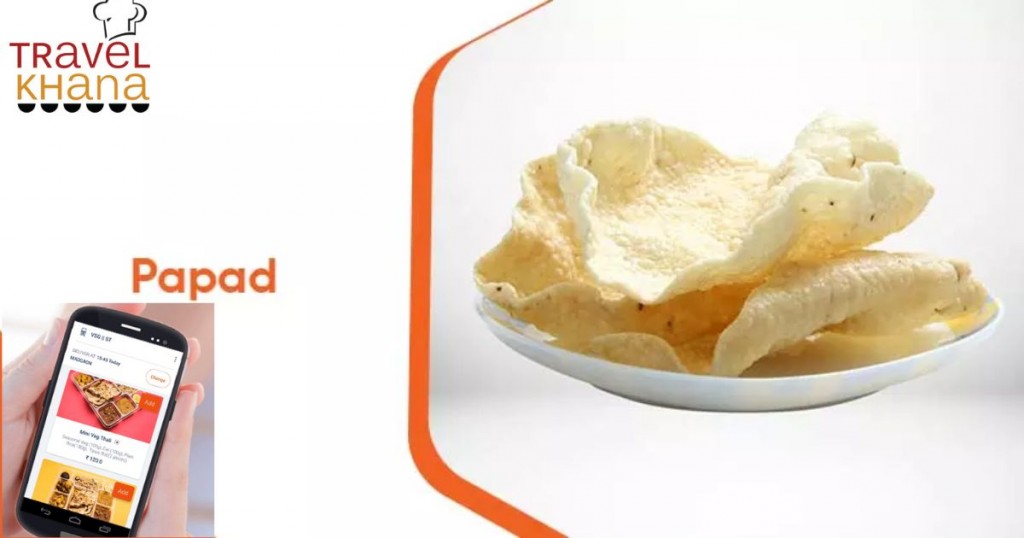 Papad
Papad is a traditional Indian snack that is usually made from legume flour such as lentils or chickpeas. Thin, crispy flatbread is fried or baked over direct heat. It is healthy when cooked over direct heat. Papad is often served as a side to authentic Indian dishes like kichadi, chawal-dal, etc. You can enjoy it as a snack on the train with your afternoon chai.
Omelette
The omelette is a healthy option for breakfast or dinner. It is prepared with beaten eggs adding vegetables. You can enjoy spinach omelette, fruit omelette, etc. Home cooking is delicious and healthy Indian cuisine, gluten free. You should know that the egg is part of naturally gluten-free foods. Usually, people add gluten-free foods to their diet.
Lassi
Lassi, a traditional Indian drink, is popular with many of us. The drink based on cottage cheese, nuts, water, etc. It is available in different variants. Lassi summer drink is available on the train. Lassi is a good source of calcium, vitamin B12 and vitamin A. It is light and good for your health. Adding this drink to your gluten-free diet will supplement your nutritional intake.
Dhokla
Dhokla is tasty soft snack and Gujarati cuisine. You can get it as a gluten-free dish during your train trip. The dish is prepared with chickpea flour, lemon juice, salt and spices. It is an excellent dining option for a light breakfast and an evening snack. The dish is usually served with peanut chutney, green chutney, and coconut chutney.
Idli
Idli is a very common breakfast dish in South India, served with sambhar and coconut chutney. People like to eat this dish as a light meal and it is considered as one of the healthy food options. The delicious food is made with fermented rice and black lentil pasta. You can get it in almost any restaurant in India. Vegetarian food is the first choice for many people.
Dal Tadka and Jeera Rice
Dal Tadka and Jeera Rice is an upgraded version of the well-known traditional combination of dal rice. It is usually made with a mixture of three types of daltoor dal, moong dal, and masoor dal. Lentils are high in gluten-free protein, calcium, and fiber. Also, jeera rice is fried with cumin. On the train, you can order dal tadka and jeera rice separately or order the combo pack. However, as a precaution, you must mention your gluten-free diet in the instructions section for ordering groceries.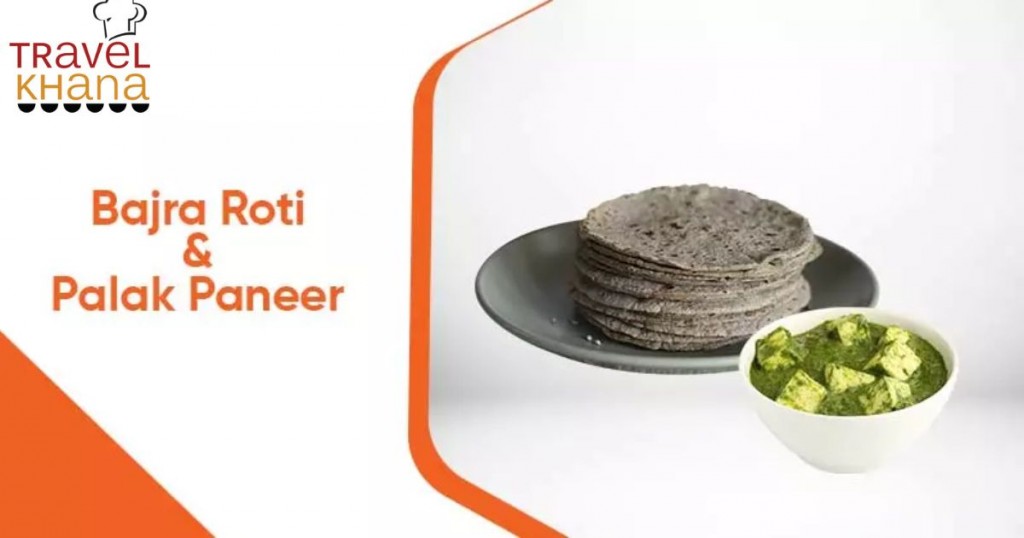 Bajra Roti and Palak Paneer
The combination of Bajra Roti and Palak Paneer is the healthiest gluten free meal that you can enjoy without spoiling your taste buds. However, when placing your gluten-free order, you must mention that you are getting pure Bajra Roti. For many years, Bajra cooks have added a certain percentage of wheat flour. Also, instead of bajra roti, you can also get makki ki roti. Corn is also naturally gluten free. Palak paneer goes well with bajra or makki ki roti.
Murukku
A crunchy South Indian snack Murukku is a round dish made from rice flour, urad dal, spices and salt. The hearty and crunchy dish is popular in Andhra Pradesh, Tamil Nadu, Karnataka and Kerala. Since it is made from rice flour and urad dal, it is healthy and gluten-free.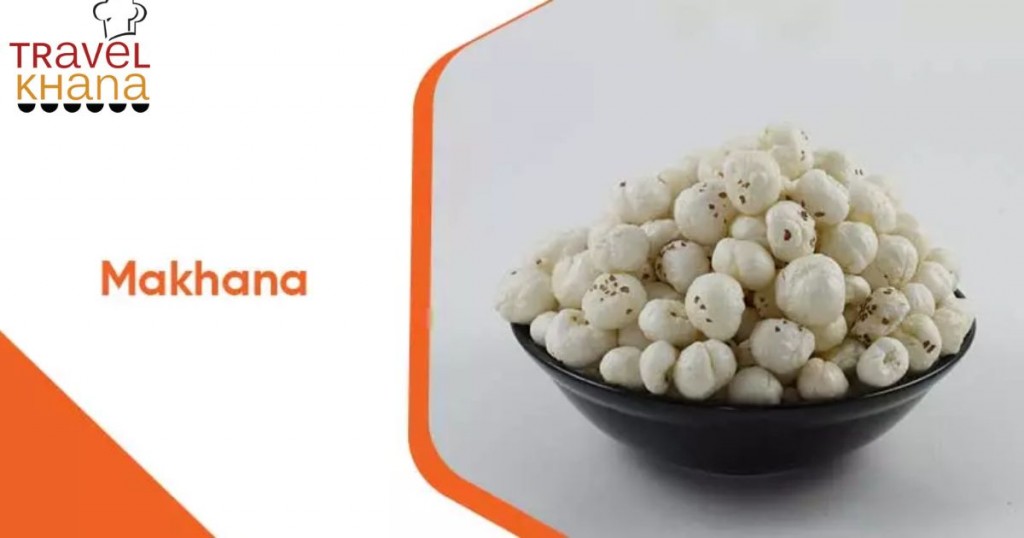 Makhana
Fried Makhana is a tasty snack option when avoiding gluten-containing foods. It is a pure food that is packed with nutrients, antioxidants and anti-aging properties. It is a healthy snack that you can enjoy at any time of your trip.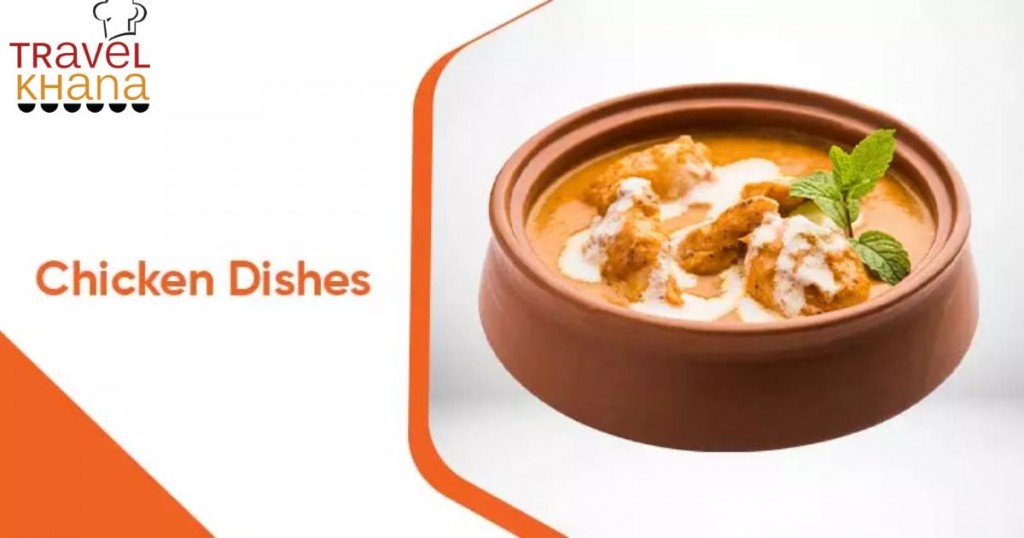 Chicken Dishes
The meat is naturally gluten free, including chicken products. You can order any chicken dish you like on the train. You can accompany chicken dishes with rice such as fried rice, zeera rice, steamed rice or any dish of your choice. The variety of non-veg food deliveries on the train is huge. Apart from chicken products, you can also buy seafood on the train to satisfy your travel hunger.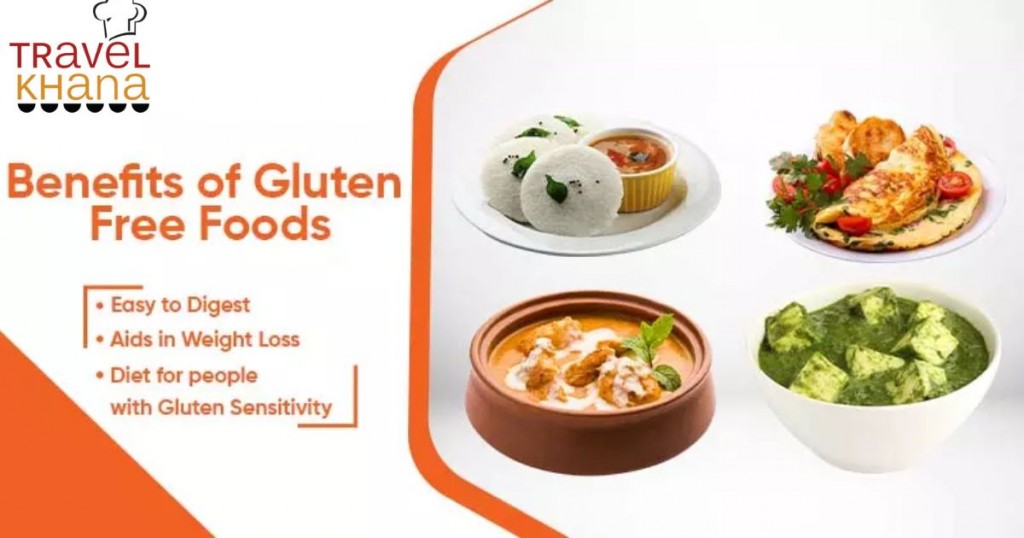 Benefits of Gluten Free Foods
Gluten-free diets are essential for people with celiac disease, a genetic autoimmune disorder that damages the small intestine when gluten is consumed. However, in recent years, gluten-free diets have become popular among people without celiac disease or gluten sensitivity. While some studies suggest that a gluten-free diet can provide health benefits, it's important to note that a gluten-free diet can also be less nutritious and more expensive.
Here are some potential benefits of gluten-free foods:
Relief from digestive symptoms: Some people with non-celiac gluten sensitivity report relief from digestive symptoms, such as bloating, gas, and abdominal pain, when they eliminate gluten from their diets.
Improved energy levels: Some people report feeling more energetic and less fatigued after adopting a gluten-free diet, although this may be due to other changes in their diet, such as consuming more fruits and vegetables.
Improved nutrient absorption: People with celiac disease may have difficulty absorbing certain nutrients, such as iron and B vitamins, due to damage to the small intestine. Adopting a gluten-free diet can help improve nutrient absorption and prevent nutrient deficiencies.
Weight loss: Some studies suggest that a gluten-free diet can lead to weight loss, although this may be due to a reduction in calories rather than the elimination of gluten.
Increased variety in diet: Adopting a gluten-free diet can lead to trying new foods and recipes that may not have been previously considered.
However, it's important to note that a gluten-free diet can be less nutritious and more expensive than a regular diet, particularly if people rely heavily on processed gluten-free foods, which may be higher in sugar, fat, and calories than their gluten-containing counterparts. Therefore, it's important to work with a healthcare professional or registered dietitian to ensure that a gluten-free diet is balanced and meets all nutritional needs.
If you are traveling by train and need to order a gluten-free meal, you can do so through the TravelKhana website or mobile app. Here are the steps to order a gluten-free meal:
Visit the TravelKhana website or download the app on your mobile device.
Enter your train details, including train number, date of travel, and boarding station.
Browse the menu and select the gluten-free options that are available. You can also filter the menu by dietary preferences to see only gluten-free options.
Add the selected items to your cart and proceed to checkout.
During the checkout process, you will be prompted to enter any special requests or dietary restrictions. Here, you can specify that you require a gluten-free meal.
Complete the checkout process and make your payment.
Your gluten-free meal will be delivered to you on the train at your seat or berth.
It's important to note that while TravelKhana strives to accommodate dietary restrictions and preferences, there may be limitations in terms of the availability of certain foods or ingredients. Therefore, it's always a good idea to plan ahead and bring some gluten-free snacks or meals with you on the train, just in case.  Happy Holi Food on Train 
Top Gluten Free Foods You Can Order on Train