---
After much speculation, hue and cry, the Union Railway Minister D.V. Sadanand Gowda presented the Railway Budget 2014-15 on 8th of July, 2014 in the Parliament. The budget can be said to be a no-frills affair; the railways are making loss and the fundamental services and systems are not sufficient for the millions of people traveling to and from every day on the Indian Railways. The excess pressure has not been met with adequate reforms till now, and so the budget has aimed to put a stern check on the wastage of effort and resources with the railways, in an attempt to make it a profitable venture.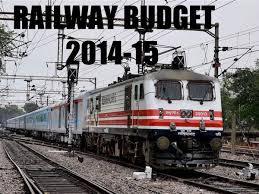 The main highlights can be summed up as follows:
–          The much debated price rise in ticket fares of Railways has been put to end with no change in fares. The freight charges will also not increase.
–          Bullet train proposal in the Ahmedabad – Mumbai corridor has been given green signal.
–          The speed of trains in 9 sectors to go up to a level of 160-200 kmph.
–          The online portal to support 1.2 lakh users at one time, putting an end to constant trouble and hang-ups in the irctc website. Also, to reduce pressure on the website, booking through telephone and post offices to be popularized. A separate online platform for unreserved tickets to be created.
–          Platforms to be revamped. Inclusion of battery operated cars for senior citizens and differently-abled people on major platforms, combo parking-platform tickets, retiring rooms enough for all travelers, food courts, and RO water purification systems to be put on few stations initially. Solar energy to be tapped on some stations. Set up of a corpus fund for station development to be there on each station. CCTV cameras to be installed on stations for cleanliness monitoring. The cleanliness budget itself is increased by 40 percent as compared to last year. Some stations to be made to international standards through PPP model.
–          For security, the trains and stations to be equipped with lady constables. A proposal for inclusion of 4000 lady constables on papers now.
–          SMS booking service for food order in trains.
–          For trains, better food provision, IVRS for food quality feedback, automatic door closing in suburban, as well as mainline coaches, internet and workstation facility in some trains, WI-FI facility in A and A1 class in selected trains and 58 new trains to come into existence.
–          Foreign investment in certain railway projects opened. FDI and domestic investments opened in rail infrastructure development.
–          Parcel terminals to be separated from passenger ones to ensure unhindered traffic management on the platforms.
–          Setting up of Railway University and technical – non technical centers for subjects relating to railway operation and management.
The railway budget promises a lot and works mainly on the problem areas – Infrastructure management, food quality, stations management and resources management. With a plan of spending 149,176 crore INR, this seems a decent outlay for the development of the railway facility in India. Highlighting the plan for railway transformation, the minister was reported quoting that the medicine may act bitter in the beginning, but will be nectar in the end.
Rail Budget 2014-15 Highlights: Indian Railway Added 58 New Trains