---
Nearest Railway Stations to Nainital and the Best Time to Visit
A detailed train travel guide to the beautiful Nainital Hill Station and its major tourist attractions. Want to know more that which is the Nearest Railway Stations to Nanital?
Nainital Hills Station
Indian Lake District – Nainital is one of the most visited hill stations in India. Nainital is a popular tourist destination in Uttarakhand and a honeymoon spot in India in both summer and winter. Nainital is the perfect winter destination for thousands of tourists to celebrate New Year and Christmas Eve.
According to Hindu mythology, the left eye of the goddess Sati fell out when Lord Shiva mourned over her dead body. Lake Panna is said to be shaped like an eye. Hence, the name Nainital is derived from "naina", which means "eye", and "tal", which means "lake".
Nainital is famous for its schools, research centers and observatories. Aryabhatta Institute of Observational Sciences (ARIES) is located 9 km from Nainital. It is a center for astronomical research and optical tracking of satellites.
How to Get to Nainital
The city of Nainital is well connected to the rest of the country and is easily accessible from any city by all means of transport. However, if you want a hassle-free ride, you can choose any mode you want accordingly.
How to reach Nainital by plane
Nainital's Pantnagar Airport is the closest domestic airport and is 70 km from the main city. If you plan to fly, you can be dropped off at the airport and take an external taxi to Nainital city. There is also an international airport serving Nainital, Indira Gandhi International Airport (IGI), located in New Delhi, 300 kilometers from the city.
How to Get to Nainital by Train
Kathgodam Railway Station is the nearest railway station and is 23 km from the beautiful city of Nainital. It connects with Nainital passing by next to the hill station. Easy access to buses and taxis just outside the station. There are several direct trains daily to Kathgodam from big cities like New Delhi and major cities like Lucknow, Kolkata and Agra.
How to reach Nainital by road
Nainital is connected to major cities like Agra, New Delhi, Lucknow and Kolkata, and many buses and taxis run regularly from these cities to Nainital Bus Terminal. People traveling to Nainital usually take a taxi to enjoy the beauty of the city.
Nearest railway station to Nainital
Kathgodam is the nearest railway station to Nainital, located in the Nainital district. The headend manages multiple incoming and outgoing train loads. It connects the city with the rest of India. Passengers can also get on the train from the secondary station to avoid getting on and off the bus.
Below is a list of the nearest railway stations to Nainital so that tourists can easily reach this picturesque place:
1) Kathgodam Station (KGM)
Kathgodam Railway Station is located in the Nainital district of Uttarakhand, only 23 kilometers from the city. Kathgodam is one of the famous nearest railway stations connecting Kolkata, Mumbai, Delhi, Agra and many other major cities. Visitors can hail a taxi or taxi outside the station area to reach the city.
Passengers can also order food on the train online at Travelkhana and check availability, PNR status, train schedules and fares.
Trains passing through Kathgodam the nearest railway stations
Here is a list of some important trains passing through Kathgodam station:
KGM Gharib Rath (12255),
Raniket Express (15014),
Jan Shatabdi Spl (02091),
Lucknow KGM Express (15043),
NDLS KGM Express (12040)
2) Haldvani Station (HDW)
Haldwani Railway Station is the only broad gauge railway station in the Nainital district of Uttarakhand. The distance between Naini Tāl and Haldwani is 42 km. Many trains stop here for tourists to visit Nainital.
Here are some of the trains stopping in Haldvani:
Passenger from Moradabad Kathgodam (55303),
Bug Express (13019),
Anand Vihar Trm Kathgodam Sht (12040),
Dehradun Kathgodam Express (14120),
Raniket Express (15013)
3) Lalquan Junction Station (LKU)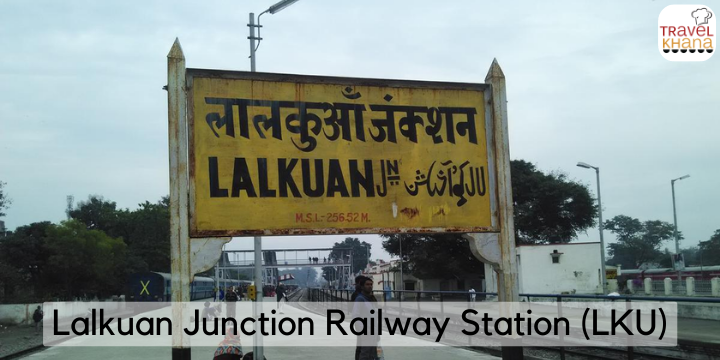 Lalkuan Junction is part of the Ijatnagar railway branch of the North Eastern Railway. It is located 60.7 km from the town of Nainital. Several trains stop at Lalkuan Station, from where you can take a bus or taxi to Nainital town.
Some of the major trains passing through Larkuan Junction station are:
Lal Kuan Bareilly, City Passenger (55348),
Ramnagar Bandra Terminus Express (19062),
LKU Ndls As Spl (02039),
Rat Jammu Gharib (12207),
Ramnagar Express (19061)
The best things to do in Nainital
From boating to hiking, the city offers numerous experiences that will make your trip to Nainital unforgettable. The cold climate, magnificent hills and beauty of the lake make Nainital a stunning tourist destination. Nainital is one of the most popular tourist destinations in India as it has many temples, viewpoints, picnic areas, parks, zoos, etc.
Take a look at some of Nainital's top attractions and what to do there:
Famous Sites of Nainital
Naini Lake – Boating
Lake Naini is famous for boat tourists. Its stunning landscapes attract both tourists and honeymooners. Lake Nainital is surrounded by seven different peaks commonly referred to as "Sapta Shring" namely Ayarpata, Khandi Bandi, Deopata, Chin Peak, Laria Kanta, Alma and Sher Ka Danda.
The family can take a 30-60 minute boat ride. Stop for a delicious lunch at a well-known restaurant like the Boat House Club that serves delicious dishes.
Tiffin Top – Enjoy the views of the Himalayas.
Tiffin Top is the most popular picnic spot in Nainital and watching the sunrise from Tiffin Top is the most exciting activity for travelers. Tiffin Top is located on the hill of Ayarpatta. Enjoy the charm of Nainital while admiring the beautiful hills of Kumaon.
This place is located just 4 km from the center of Nainital. If you're impressed with what to do in Nainital, head to the top of Mount Tiffin to capture the beauty of the Himalayas and get ready for the adventure. You can also try horseback riding.
Naina Devi – Immerse yourself in spirituality
The city of Nainital derives its name from the Naina Devi temple. The temple is dedicated to Goddess Naina Devi or Masati, who is believed to be the ruler of Naini Lake. He is also known as one of the 64 Shaktipeeths of India. According to Hindu mythology, the temple was built at the place where the eye of Goddess Sati fell when Lord Vishnu cut her body into 51 pieces.
Raj Bhavan – Tour the Royal Palace
The Governor's Mansion in Nainital was built by the British in 1924 and resembles Buckingham Palace in London. There are about 113 rooms in the two-story palace, but visitors only see a large lawn. There is also an 18-hole golf course surrounded by picturesque forests and unique flora and fauna.
Jim Corbett National Park – Explore the Wilderness
This oldest national park of India is an ideal destination for wildlife and nature lovers. It is not only the abode of wild animals but also a rich flora and fauna. After visiting Jim Corbett, you will see lush green valleys, water bodies, dream fields and 521 square kilometers of forest.
Shopping in Nainital
Mall Road, Bara Bazaar, Tibetan Bazaar and Bhotia Bazaar are some of the best places to shop for everything from brand-name items to clothing and locally produced goods. It's hard to imagine not packing your way home with these stores' selection of scented candles, art jewelry, trinkets, and crafts. You can also buy jam and fruit such as apples, blueberries and cherries to take home. Tibetan Bazaar or Bhoti Bazaar is another famous market known for women's clothing, scarves and shawls. These are the perfect items to keep with you as a memento to be cherished forever.
Best time to visit Nainital, Uttarakhand
The weather is pleasant throughout the year but the best time to visit Nainital is from March to June. It sometimes rains heavily during the rainy season (July–September). However, since this is the low season, hotels offer the best discounts to travelers during this season, and many budget-conscious travelers travel during the rainy season. October to February is also the best time to visit Nainital as the sunny weather is neither too hot nor too cold. When the temperature falls to zero degree Celsius during the cold days, there is a feeling of cold. If snow is your thing, plan your trip between December and January.
Nainital Hotels
Nainital is also a popular honeymoon destination for honeymooners; you can stay in budget or luxury hotels. Some hotels and resorts:
Naini Retreat,
Bungalow "Bara" (Resort "Heritage"),
Luxury Holidays (5 stars) with mountain views,
Nainital Ranch (3 stars),
Hotel Cloud 7 (2 stars),
Royal Windsor Hotel (1 star)
Local food in Nainital
A famous restaurant in Nainital is the Embassy Restaurant which is popular among the locals and tourists alike. This is a great way to enjoy local food. Some of the dishes include bhatt ki churkani, rasa (doodle dish), badi, aloo gutte (boiled spiced potato dish), arsa (beets) and gulgul (sweet food). The coffee shop in the mall is the perfect place to relax with a cup of delicious coffee.
Markets and Festivals in Nainital
Some of the popular festivals and fairs in Nainital are Basant Panchami, Uttarayani, Phool Dei, Nanda Devi Mela, Khatarwa, Harela, Ghiya Sankranti and Sharadotsav. The festivities involve a lot of folk and classical dance, fireworks, art, and the list goes on.
The purpose of the holidays and festivals is to showcase the joyous life and cultural uniqueness of Nainital. These fairs and festivals express local life and cultural ideas.
Nearest Railway Stations to Nainital