---
The Indian Railways is one of the largest manually operated networks in the world. There are a lot of benefits when it comes to travelling with the Indian Railways. Not only is it cost effective, but depending on your budget, it also allows you to choose which type of class you want to travel in. The Indian Railways also runs a lot of special trains in case of peak seasons, like summer holidays, puja vacations, etc. Ticket booking and reservation processes are quite easy, and hence, travelling in the Indian Railways is fairly comfortable.
However, there is a major problem when it comes to one thing- food! Some of the food served on the overnight trains is not exactly what you would call the best. Apart from meals served in the Rajdhani or Duronto, it is best to avoid train food. Food is one of the major problems that the Indian Railways is tackling with. However, this problem can be solved in a jiffy with TravelKhana!
TravelKhana is an online and mobile food service center in train. They have a number of restaurants tied up with them in almost all the major metropolitan cities and the most important railways junctions. Suppose you are craving biriyani while on your journey from Howrah to Mumbai but from where will you get a hot steaming plate of biriyani? All, you have to do is visit TravelKhana's online page, enter your train number or name, the journey of your travel and they will display a list of restaurants that are tied with them that fall on that route. You can browse through their menus and then choose a dish of your choice, and they will have the meal waiting for you at the mentioned station! In fact, you can even pre-book your meals with TravelKhana. Deliciously simple, isn't it?
To eat and not to eat
There are a few things that you need to keep in mind while choosing your meals when travelling in trains. It is best to keep the food as light as possible and not go for very rich or spicy food if you have a history of getting your stomach upset due to taking spicy food. However, make sure that the meals that you have are filling so that you do not constantly crave for food. You need to make sure that you have balanced meals since you cannot afford to fall ill while travelling since treating it would become really difficult.
Here are 5 dishes that you can consider ordering when placing your order through TravelKhana:
1- The quintessential Veg Thali: It is best if you avoid meat when travelling. These take more time to get digested and hence might cause a little problem for you. If you want to keep it light, then opt for the classic Vegetarian Thali. These thalis are extremely filling and is perfect for lunch or dinner. They come with some rice, roti, dal, sabzi and sometimes even papad. You might go for some fresh cut salad on the side as well. The quantity in these thalis is generally enough for one person, and if you are travelling with a kid, then half a thali would be enough.
2- For the love of paranthas: If you are wondering what would make an ideal breakfast meal, then go for paranthas and achar or curd on the side. The best option would be to go for aloo paranthas. The paranthas keep your stomach full, enough to last till lunch time and the curd helps in digestion and cooling down the body. This is a perfect combination, specially meant for breakfast on trains. You can skip the omelette and bread that are generally available on trains and opt for this dish instead.
3- Go for the Dosa or Idli: If you want to keep it light for your evening snack or breakfast, then the best bet would be to go for dosas or idlis. Though idlis can be had cold, dosas become a little difficult to eat if it has been removed from the heat for a long time. So, dosas are best served hot. That is why it is you can order a dosa through TravelKhana without blinking an eyelid since they make sure that the food that is served to you is fresh and hot. All you have to do is keep them informed about the tentative arrival time of the train at the specified station. Hot dosas or cooled idlis, whatever you want, TravelKhana will make sure that you get it!
4- Say yes to the Rice or roti combo meal: If you like to eat light for your dinner and have a serious hankering for either rice or roti, then you can go for these combo meals. The roti combo meal consists of a few rotis and a sabzi while the rice combo meal consists of one plate rice and dal. One combo meal is enough to serve one adult. To end your meal with a pleasant or healthy twist, you can go for a plate of curd rice. It improves your digestion and helps in keeping you fit.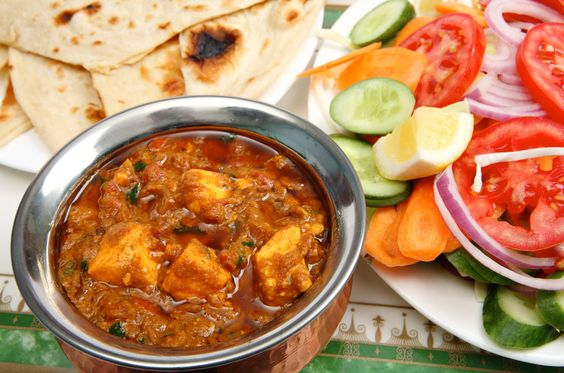 5- And it is time for some Biriyani: Want to eat something grand while on your journey? Then the best thing that you can order is biriyani. You can go for non-veg biriyani, but veg biriyanis are also available. Since the biriyani itself is quite heavy, you should always go for a raita at the side. The curd will help you in digesting the biriyani. In case the dish gets too dry, have a bottle of cold drinks in hand. This will also help in improving your digestion.
These are some of the top five dishes that you can try out when choosing TravelKhana as your travel partner. The best part about TravelKhana is that it serves hot and fresh food and hence chances of getting food poisoning is almost next to nil.
So travel safe and travel healthy with TravelKhana!
5 Food items that you can have during your train journey