---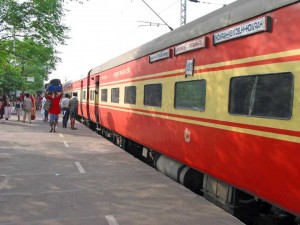 Rajdhani trains are fast passenger trains connecting various cities to the New Delhi area (the capital; "Rajdhani" means a capital city in Hindi). They are generally given operational priority as they are "prestige" trains. The early Rajdhanis all had AC chair-car accommodations; however, now they all have AC sleeper accommodations.
One peculiar feature of the Rajdhanis used to be that ticketing could only be done from the starting station or to the terminating station; it was not possible to buy a ticket for a journey between two intermediate points. However this rule no longer holds now.
The first Rajdhani was introduced between Howrah and New Delhi on March 1, 1969. The first return journey from New Delhi was March 3. The booked speed for the route was 115 km/h and the maximum permissible speed was 120 km/h. (At the time, the only train allowed this speed.) Later it ran 5 days a week, and also had a mid-train generator car. Still later it became a daily train, with two runs (Tuesday and Friday) going via Patna.
Initially, the Rajdhani covered the 1441km route in 17 hours and 20 minutes but this was later speeded up to 16 hours 35 minutes (from Delhi) and 16 hours 55 minutes (return). The New Delhi – Kanpur time was 268 minutes, and the Mughalsarai to Dhanbad time was 240 minutes, which compare very favourably with the timings of fast trains today!
The ticket issued for the journey was Rs. 280 for AC sleeper and Rs. 90 for AC Chair car. The train offered a true express service between New Delhi and Howrah with no booking of passengers for any station enroute. It ran on the Grand Chord with intermediate halts were restricted to Kanpur Central, Mughalsarai and Gomoh, for service requirements like refilling of overhead water tanks and replenishing of catering stores.
Two years later (July 1971), Kanpur Central was converted to a passenger halt when ten seats in the AC Chair car were set apart for Kanpur residents. On Nov. 1971, the train's speed was increased to 120/130 booked/max. resulting in a reduction of 30/45 minutes in the Up/Dn journey times. In a few years, Mughalsarai and Dhanbad became passenger halts and the Gomoh halt was removed.
In 2009, at the time of its 40th anniversary, the Howrah Rajdhani took 17 hours and 10 minutes for its run, and had passenger stops at Dhanbad, Parasnath, Gaya, Mughalsarai, Allahabad, and Kanpur Central. It uses a rake of 18 LHB coaches.
About us:Travelkhana is a rail meal booking platform. To know more about us please log on to www.travelkhana.com
Kahani Howrah Rajdhani Ki!