---
It has been noticed that there has been an increase in the misuse of senior citizen quota as well as people who are availing senior citizen concession. To prevent the same, Ministry of Indian Railways has taken few steps in this regard and as per the new scheme, passengers who will be find out misusing both senior citizen concession as well as senior citizen quota will be considered as travelling without ticket and will be charged accordingly for that. They will be charged with a penalty that will be taken as a difference in fare calculated in between the full fare and concessional fare. This strategy will help in real the genuine and eligible senior citizen passengers and new instructions will be made into real and effective as per 1st February, 2016.




As defined and effective as per the current policy of railway travel concession, male senior citizen and women senior citizen of age 60 years and above and of age 58 years and above respectively are granted with 40% and 50% concession respectively to be travelling in all classes of express, mail, Shatabdi and Rajdhani express trains and more. There is absolutely no age proof been required at the time of buying tickets but at the time of journey, senior citizen has to carry prescribed and authentic documentary proof as issued by the Government depicting their date of birth or age group. In situations, when a senior citizen is not able to show the relevant age proof during the travel then he or she will be charged with the difference in fare of the ticket that is in between concessional fare and full fare.
As per senior citizen quota, senior citizen can avail the facility to get confirmed lower berth.
Few instances have been brought into notice related to misuse of senior citizen concession or buying tickets under senior citizen quota like as mentioned in below.
People book the tickets under senior citizen quota by mentioning wrong age. In case, they are caught, they need to pay the difference in fare otherwise in case they went undetected, it could end in loss of revenue to the Indian Railways.
In case, a passenger has booked confirmed lower berth under senior citizen quota and he/she get caught, then he/she needs to pay the difference of the fare and reap the benefits of senior citizen quota as well as concession un-authentically.
Some of the travel agents make use of this method in order to cheat the passengers. They get the reserved booking ticket by giving wrong age declaration and editing the e-ticket as well by providing the correct age and fooling the passengers.
Above mentioned facts and points have been determined and evaluated by the Ministry of Indian Railways, and it has been decided as mentioned in the following.
IRCTC or CRIS has provided functionality that whenever a user do the enquiry related to PNR status, the fare that is charged will be reflected over the ticket at that time. Other details feasibility will be explored including age of passenger and the quota under which that ticket is been booked, as per IRCTC or CRIS so that they don't feel like getting cheated by unauthentic ticketing agents.
Whenever a passenger is been found or caught travelling in a train under senior citizen quota or concession and have the berths booked by showing and enlisting them wrong age or else, he or she will be acknowledged as travelling without ticket and will be charged accordingly. This case will be considered as both where he or she is taking undue advantage of concession as well as senior citizen quota. The penalty is highly admissible on them as he or she is not only cheating on the fare part but also holding a confirmed lower berth in the train as per false declaration making it unfair for the eligible and genuine senior citizens to get that confirmed berth.
When a person is caught or found travelling in a train by showing wrong age at the time of booking and get senior citizen concession only, he or she will be charged penalty in that case that will be addition to the difference of fare in between full fare and concessional fare.
These instructions will be made effective and applicable as reference to 01.02.2016. All the relevant and important instructions will be issued to all of them concerning specifically ticket checking staff and others with a caution note to be tactful as well as patient while managing and organizing all passengers avoiding any complaint related to any harassment. This initiative and move is been focused just to assist and support genuine and authentic and eligible senior citizen passengers.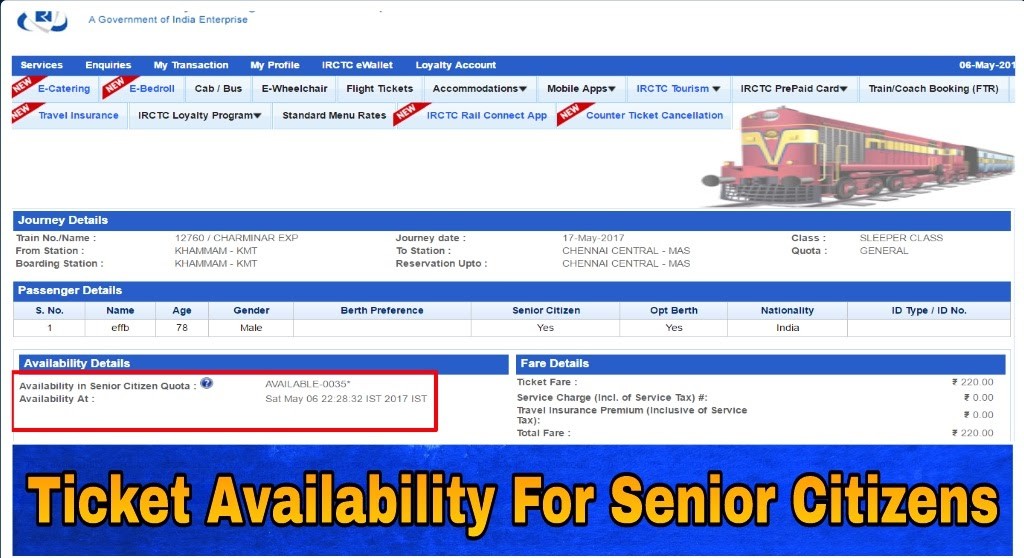 Indian Railways – Increase in misuse of Senior Citizen Quota and Senior Citizen Concession