---
It is summertime and for most people all around the world, travelling is inevitable. For the sake of convenience, many people choose to travel by flights. But the true entertainment of travelling only emerges when one travels using Indian Railways! For those of you, who have already travelled by train, you know that the quality of food has improved by a large margin, but what about the taste and variety of the dishes available? This summer, beat your hunger pangs with the newly introduced pizza delivery in train by TravelKhana!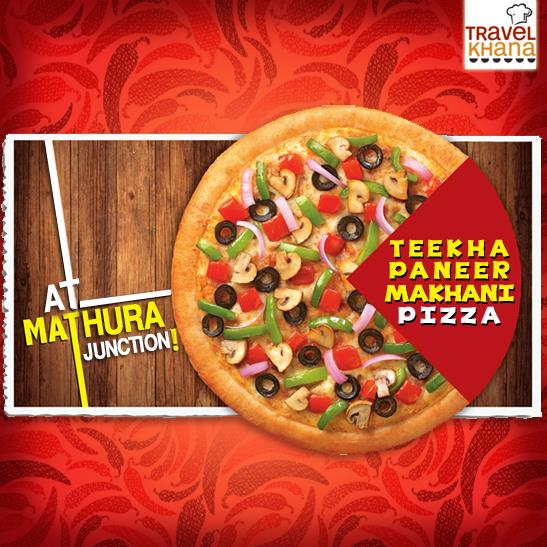 Why TravelKhana?
Located in capital of India, TravelKhana has already earned a reputation amongst thousands of train passengers of being an excellent supplier of food, beverages and snacks.
Here are some of their benefits:
Food provided by TravelKhana is prepared in a hygienic manner and ensure taste and quality are always served with efficiency.
This accolades winning company serves more than 6,000 trains, which cross through 500 cities and is known for its prompt service.
There are many cuisines that you can choose from – Indian, Continental, Mughalai, Hyderabadi and Italian. In addition to delicious thalis and individual dishes, they have now introduced pizzas that will surely make your mouth water!
You can place and track your order online or over the phone. You can select the station and time you want the food and it will be delivered to you. Choose from the pay online or cash on delivery payment options as per your convenience.
This is a no-hassle way to ensure you get tasty food at the right time to make your travel interesting and comfortable.
About Pizza Deliveries –
Many travellers have moaned about the mundane food lists that they have to choose from every time they have to place an order. Some of them comment on how much they miss western dishes available at fast food restaurants or parlours near their houses. So TravelKhana thought – why not infuse some life into their food menu and keep the travellers happy? Thus, came about the introduction of pizzas on train!
Here are some reasons why you should consider ordering this the next time you place your order with Travelkhana:
Pizzas are DELICIOUS! Children to adults – there are very few people who don't like or can resist the aroma of pizza and dig into it.
Pizzas definitely add a dash of spice to the usual fare had by people. Using things like dough, cheese, vegetables such as ripe tomatoes, olives, capsicum, etc., chunks of paneer or your choice of meats that are all fresh and used the day they are prepared or cut, TravelKhana ensures your pizza is as crusty and delicious as those that you get from your regular stores.
Pizzas can be shared by families or can be had by a single person, depending on the size of the pizza ordered; this itself becomes a full meal. So you don't have to worry about ordering a separate dish for everybody or ensuring one dish is complemented with another to make a full meal.
So say yes to nutrition, convenience and a delight to your taste buds and order a pizza from TravelKhana today!
Locations where You Can Order Your Pizza in Train –
Pizza Available at 20 Stations in PAN India
Nagpur- Ice n Spice Rest
Bhopal – All Rest
Gandhidham BG – Salt n Paper Rest
Raigarh – Arpan Apna Sa Rest
Udaipur – Neelam Rest
Allahabad – Vegetaria
Ajmer – Ajmer Spicy Rest
Kanpur – Pandits Food Court
Jaipur – Loving Hut n Cafe
Katni – City Rest
Mathura – The Pizza Cafe
Dhanbad jn – La-Piazza Rest
Vadodara – Chatniz Rest
Vishakapatnam – Jollee Bee
Mumbai – Jain Sabkuchh
Mumbai Dadar – Jain Sabkuchh
Jodhpur – Aroras Treat
Gondia – Aahar Rest
Bareilly – Vestal Rest
Jodhpur – Aroras Treat
Get Pizza on Train Guaranteed with TravelKhana E Catering Services