---
How to Get Food Delivery in Running Train – Travelkhana
You must be familiar with opting for lunch, meal or dinner while booking your train tickets with Travelkhana. Back in the day, this was the only way Travelkhana provided food for train journeys. A few technological and physical barriers obstructed this service. Therefore, with limited options at hand, you may have felt a little constrained.
In today's day and age, we all enjoy freedom of choice; the same was not possible previously. Now, with the advancement and modernization of Indian Railways, it is possible to facilitate a range of food items to choose from. Nowadays, you also have the option to order food on the train from your favorite restaurants and shops. Travelkhana offers thousand-plus restaurants to order food from. Furthermore, Travelkhana has collaborated with Domino's, Zoop, and Real Food, GO foodie online, Yatri and Train Dhaba, among others.
This service may sound too good to be true. With the advancement in the Railways, it's possible to track the location of the train easily. Accordingly, it is also possible to prepare food and deliver it right to your seat. To avail yourself of food delivery on the train, you simply need to fill in your ticket details. You can soon expect your delivery at the next station.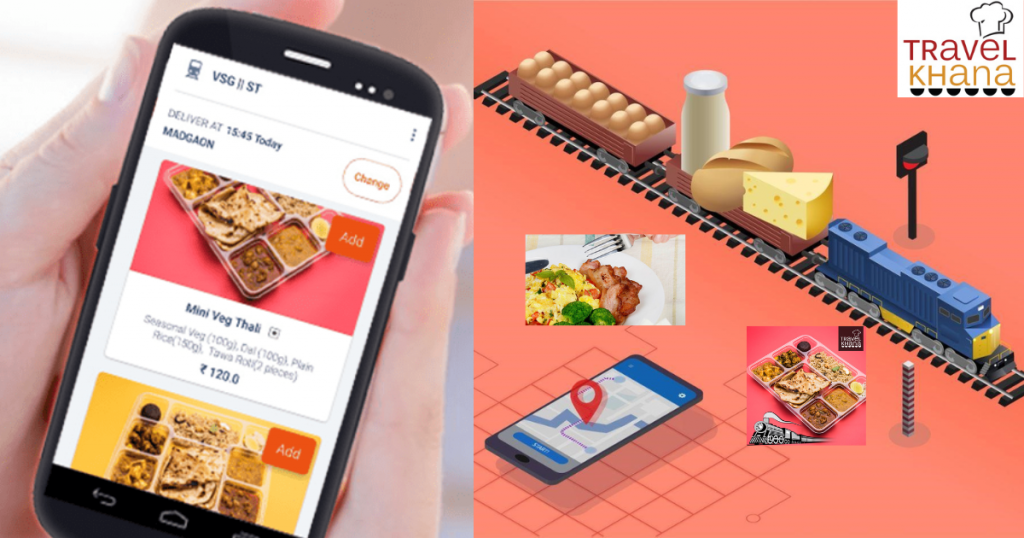 How to Order food on Running Train
You can order food on the train from various restaurants and food outlets through Travelkhana just by following a few steps. You can either order food using Travelkhana official website or through its app. In addition, you can order food by placing a call on our food delivery number 8800-313131. You should keep your ticket details handy, as you will be asked to fill in those details while ordering. Furthermore, make sure to fill in the correct details. Because your valuable time and effort matter to Travelkhana; only if the details are correct will the delivery person be able to reach you at the earliest Running Train .
You have the option to order food on the train for yourself and your family. You should note that you could order food for a maximum of no people using this service. However, Travelkhana services are easy to order food on the train; you may place group orders for more than 1 person as well. In case of a bulk order that generally involves heavy transactions, you'd be properly assisted.
Steps to follow while ordering food through the Travelkhana website
You should visit Travelkhana official website on the homepage, fill in your PNR in the "Enter PNR to order" option and click on Submit. Next, you'll have a list of food for your journey that offers food rail delivery. You can choose the food you want to order your food from and schedule it either by paying online or opting for Cash on Delivery. Your meal will be delivered by a delivery partner right to your seat.
Steps to follow while ordering food through Travelkhana mobile app
You can download this application from the Android play store or Apple store, following which you would have to create an account. Next, you need to fill in your PNR number and submit it. You'd be able to see the restaurants offering food on your train. Next, you'll have to proceed with the restaurant of your choice and pay for your order online. You will also have the option to select Cash on Delivery. Now your food will be delivered at your scheduled time.
So, what are you thinking? Order food through Travelkhana for your next journey. Travelkhana assures you of prompt food delivery—just like it offers a seamless traveling experience. This is just another initiative towards building our relationship stronger.
FAQ's
Is the food delivered on time?
Yes, Travelkhana provides expedited grocery delivery. On-time delivery is our top priority.
What happens if my food is not delivered correctly?
You can talk to the Complaints Resolution Team who will respond quickly to your questions.
What if there is a problem with the food?
You can file a complaint, which will be dealt with shortly.
Can I order food on call?
Yes, you can also place your order over the phone using our delivery number. 8800313131
Can I order food for 20 or more people?
Yes you can through the group booking option.
Do I have to pay extra for bulk orders?
No, you do not have to pay extra for your bulk orders.
How to Get Food Delivery in Running Train