---
IMPS stands for Interbank Mobile Payment. It is Mobile Payment Service that enables you to make payment through your bank account via mobile. It provides Instant fund transfer and with 24x7availability.
Do I need to have a bank account for availing IMPS?
Yes, you need to have a bank account with the bank which has enabled this facility.
 Do I need to register to remit the funds through IMPS?
Yes. You should enroll for Mobile Banking Service with the branch where you got an account. The branch will register your request and upon successful registration, the Mobile Money Identifier (MMID) will be sent to your mobile through SMS.
Mobile Money Identifier (MMID) is a seven digit random number issued by the bank after registration. This is essential for secure transfer of money.Remitter (customer who wants to send money) and Beneficiary (customer who wants to receive the money) should have this MMID for doing  interbank funds transfer.
 Who is the governing body of this service?
This service belongs to National Payments Corporation of India. Which is an umbrella organization for all retail payment systems in India. This facility is provided by NPCI through its existing NFS switch.
To provide better services to the customers, now a customer can book his ticket without
his credit or debit card. Till now IMPS users are able to make payment only through
internet in the IRCTC's e ticketing website. But soon this facility will be available
via mobile phone.
What are the Steps for Starting IMPS Services?
1.  Register your Mobile number with corresponding bank
2.  Make sure you got the MMID – Mobile Money Identifier 7 – digit number from your bank.
3. Make sure you got M-PIN from your bank
4. Download mobile banking application or use SMS / USSD facility provided by the Bank
5. Make transactions by the help of mobile banking application or SMS / USSD facility.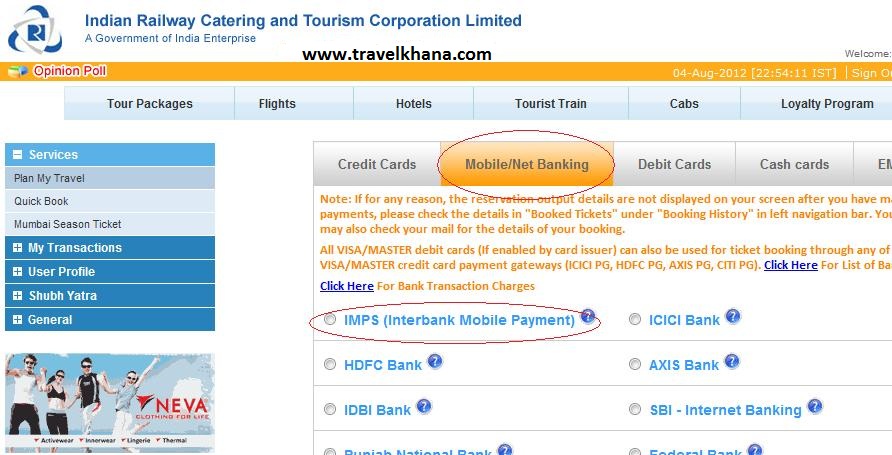 Which banks are providing the IMPS facility for IRCTC?
Till now only SBI (state bank of India) is providing the IMPS facility for IRCTC's customers.
 What details required on Payment Gateway? 
IRCTC – SBI IMPS Gateway asking following things while making payment
          Merchant Name – This always "IRCTC"
          Customer Number – Don't worry system will automatically fill this field.
          Amount – Amount too automatically pickup
          Customer Mobile Number : You need to enter your mobile number
          Customer MMID : Enter your MMID provided by Bank
          OTP : Enter OTP password for IMPS transaction provided by your bank.
 What are the charges for using this facility?
  The service is chargeable at Rs. 5 for transaction amount up to Rs. 5,000/ and Rs. 10 for above.
To find out more updates related to Indian Railways like us on facebook: www.facebook.com/Travelkhana or follow us on twitter : ww.twitter.com/Travelkhana.
For food delivery during train journey check  www.travelkhana.com  or simply call on 8800138811.
FAQ on the IRCTC's New IMPS (Mobile Based Payment) Facility