---
!! One solution of your Pizza craving: Travel Khana !!
Want to order Pizza in train, Just call TravelKhana at 08800313131 and get your favorite pizza right at your train seat.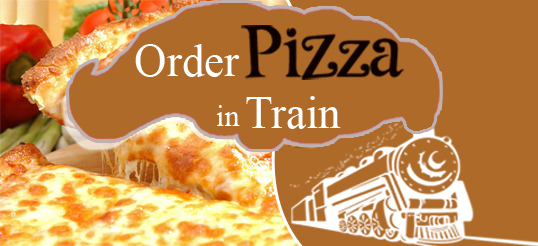 IRCTC has entered intAre you Pizzaholic? You find so many person who fell in love for Pizza? Similarly If you are planning for holidays, or a trip with your team or company or any of your relative or with friends Group & dreaming to eat Pizza during your travel journey?




Then yes here we are 'TravelKhana' for you who makes your dream come true. By our Pizza Delivery services in train Passengers will be able to order the pizza either online by our website or through a phone call at 08800313131 not only for a family or for a 2-3 person, you can order Pizza here for a team or a bulk group. Minimum takeaways for a Group bulk order is Rs.2000 & maximum unlimited. For a bulk group orders we are offering attractive discounts & coupons also.
We deliver Domino's Pizza which you eat & finding yourself in a heaven of food. Your
Wanderlust and a never-ending craving for pizza crust ends here.
As of now a person or a group of person can order and enjoy a hot delicious pizza at his or her train berth while travelling. However, this service latest available on selected routes and trains only at the moment. Such as it includes Delhi and Jaipur with other cities like Agra, Mathura, Vapi, Alwar, Ambala, Jalandhar, Muzzafarnagar, Pathankot, Bharuch and the last but not the least Vadodara.  But soon our service will exceed to many more cities & stations.Pizza of your choice will be delivered en route. You just what required is to dial a toll-free number 08800313131or login www.travelkhana.com by providing the details of your PNR and berth number in order to get a yummy Pizza on your seat.
Domino's and IRCTC Team up Deliver Pizzas in Trains