---
When I visit a new place and get tired of walking, I like to find a cosy corner for myself. A window seat, a quiet spot, with a fiction novel in one hand and a great cup of cappuccino in another. Over-hearing conversations, some in languages I don't even recognize. The cafés give me all this and a little more. So yet again I went on a spree on exploring cafe culture in Pushkar.
In Pushkar, which was mainly intended for the well-known Cattle fair, I actually spent most of my time exploring the hippie cafés in town. In an otherwise religious place full of temples, these eating joints fit in perfectly with people visiting from all over the world, looking for sandwiches, pizzas and omelettes to chew down their throats.
Here are five I liked the most, in no particular order:
Laughing Buddha Café
This one lies right in the middle of the busy market street. Take a seat in the balcony and see the town go by. We tried a version of Mac and Cheese which was delightful. Chocolate pudding was nothing to boast about but it didn't disappoint either.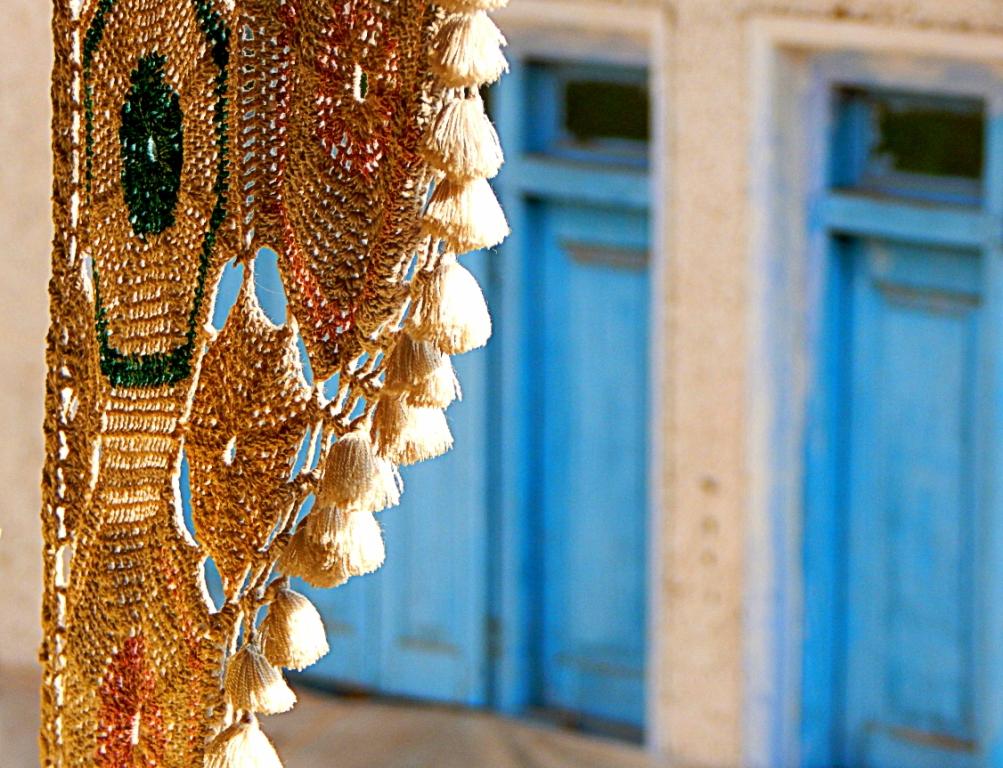 Out of the blue
Painted in blue in and out, they offer indoor as well as roof-top seating. You need to climb a lot of stairs to reach but it's worth all the effort if you want to lie down, rest for a while and have a meal. The menu is huge but I'd suggest ignoring the Indian dishes and focusing on continental. The lemonades are refreshing. The pastas and pizzas are well cooked. Visit if you can wait for your food to come. Also, if you need a good free Wi-Fi connection.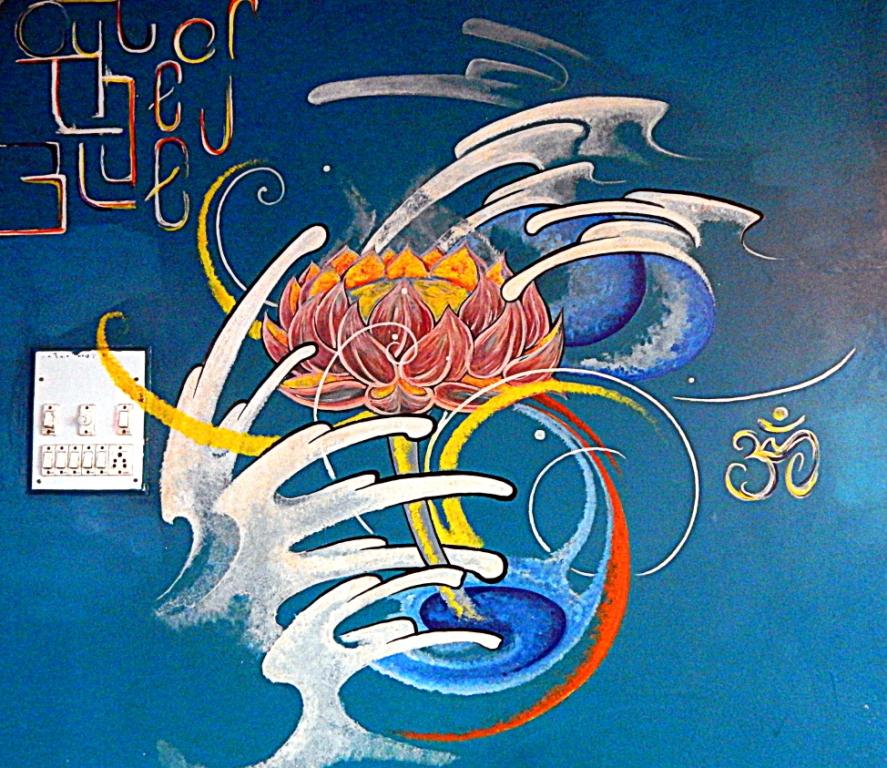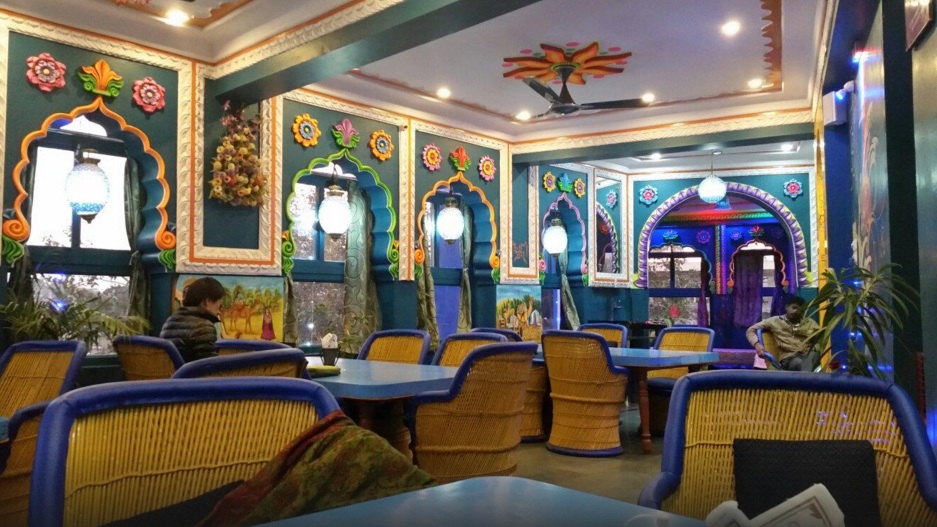 Honey dew café
It's an easy to miss, tiny place, with just one table to accommodate the guests. But, that shouldn't be a reason to not visit. Go for coffee, Lassi, quick bites or just a chat with the owners.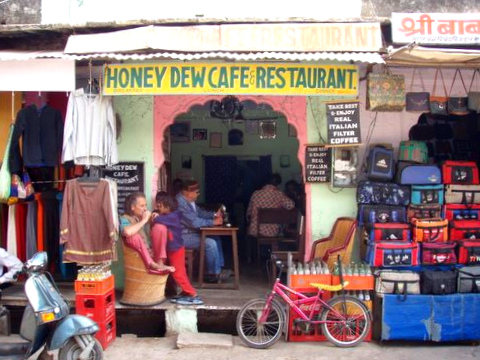 Funky Monkey Café

Away from the hustle-bustle of the main street but not too far off, this one is clearly my favourite. The most spacious place I found in Pushkar. Their walls are done in funky paintings of Michael Jackson, Pink Floyd. Apart from the regular, all-day menu, they have a scrumptious breakfast menu that probably sets them apart. Fresh fruits, a steaming cup of coffee, muesli, pancake or sandwiches, they make it all and they do it well.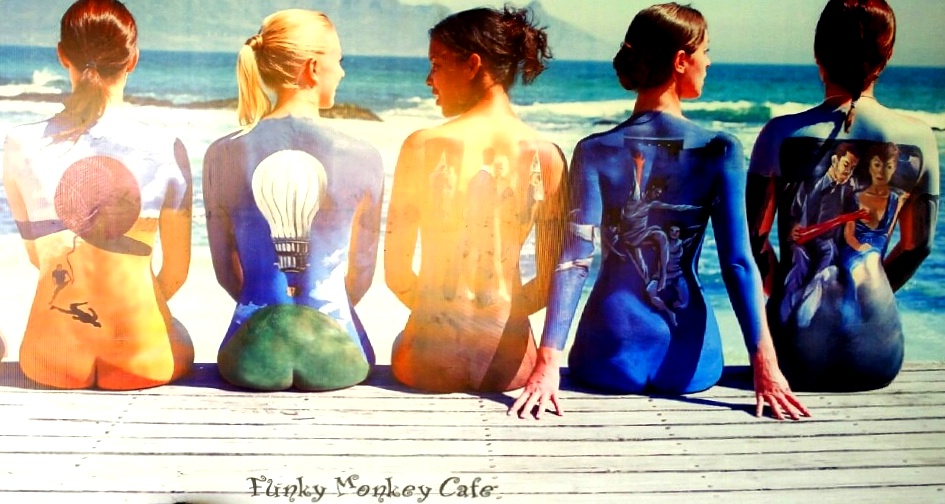 Café Nature's Blessing

This is known mostly for its healthy food options and fresh ingredients. The chef knows how to present the food beautifully. Binge on their salads, soups, breads, and smoothies among other things.
To know:
Most of them don't serve alcohol.
All of them serve vegetarian food.
The service is not one of the fastest.
The laid back attitude is in the air, almost everywhere in Pushkar. No one's ever in a rush. Your order can take an hour to arrive, and you wouldn't even mind that – unless you have a bus to catch or your stomach is grumbling of hunger.
How to reach
Take a train to Ajmer which is about 20 kilometres away from Pushkar. From the Ajmer railway station, you can either take a direct taxi to Pushkar or an Auto-Rickshaw to the Bus stop. The buses on Ajmer – Pushkar route ply throughout the day and charge just INR 15 for the journey.
Trains from Delhi
Ajmer Shatabdi
Porbandar Express
Dehradun Uttaranchal Express
Chandigarh Bandra SF Express
New Delhi – Ahmadabad Rajdhani
Featured Image: Graffiti in Pushkar cafes | Image source: www.graffitiindia.com
Follow us on Facebook and Twitter
We deliver good food in trains. Download our mobile app from Google Playstore