---
Do you want to know about India's fastest train that is Train 18? Train 18 is the country's first locomotive less train that runs in between Kurlasi and Kota station during its trial, run with an active operating speed of 180 kmph, as stated by the IANS – Indo Asian News Service agency. In accord to this report, it has further stated in the same that with the successful trial that has been conducted on Sunday, efforts are going to be conducted to introduce this first native built train set on December 25 that will run in between Varanasi and New Delhi. Christmas day is also known to be the birthday of Late Prime Minister Atal Bihari Vajpayee and this train will be a tribute to him, if everything goes well and next generation train will be launched on that day, as cited by a senior railway official on that report. It is also been depicted in the report that the input cost of the fastest train is about Rs. 100 Crore and it is pretty high, so that it also depicts that the fare structure will be a bit higher as compared to the normal fare. The railway official stated in that report that the final decision on the fare and launch date of the train were yet to be taken and decided as the trial was not finished yet. As per the tentative plan that is decided till date, the train will begin from New Delhi at around 6 in the morning to reach Varanasi at 2 PM at Prime Minister Narendra Modi's parliament constituency. In the return, the train will begin from Varanasi at 2:30 PM and will reach New Delhi, the national capital by 10:30 PM.
Speed of Train 18:
During the trial, it has been determined that Train 18 has crossed the speed limit of 180 kmph. Though, the speed touched 180 kmph during the trial run held on Sunday, it will only be allowed to run at maximum 160 kmph for commercial actions and operations.
Features of Train 18:
Train 18 is designed in a way that passengers can simply glance at the driver's cabin from their seat. It is full AC train backed with 16 coaches. The features and functionalities available in the train are known to boost up passengers' comfort, including onboard Wi-Fi, infotainment, automatic doors with retractable footsteps, inter connected fully sealed gangways, modular toilets with bio vacuum systems, GPS based passenger information system, disabled friendly toilets, diffused LED lighting, roller blinds and more.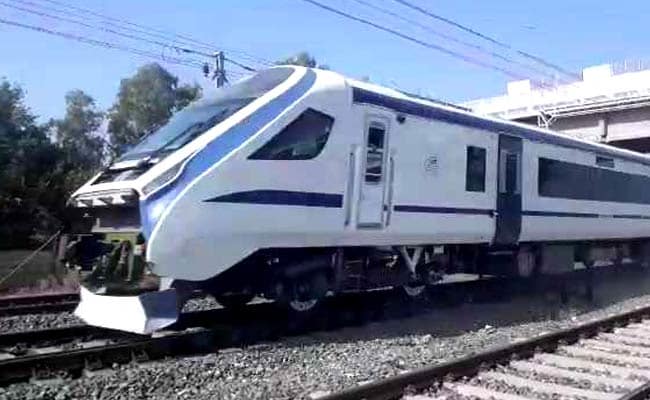 A Brief to India's Fastest Train – Train 18 Features, Launch Date and Speed